97
Important return of Digital Projection to ISE: many products of various types, starting from laser projection.
A stand full of innovation and products: this is how we could define the participation of Digital Projection at ISE 2019. Let's start with the new 8K INSIGHT Laser projector, brighter than its previous version. It's an 8K DLP projector (resolution 7680 X 4320) of 36.000 lumens, with laser-phosphor technology, a permanent solution for the most elaborate and large medical, scientific and immersive visualization. In addition to the resolution and lumen performance, it uses proven DLP technology incorporating 3 DarkChip DMD chips and Digital Projection's ColorMax technology to ensure colour accuracy and black levels.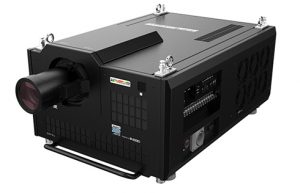 Also as regards the projectors, ISE 2019 saw the presentation of INSIGHT 4K, the world's first Native 4K projector with Ultra High Frame Rate Multi-Viewer 3D. Multi-View 3D projection is made possible by ultra-fast frame rates and high resolution; the idea being that a single projector will accommodate multiple viewers, each being tracked and each having a view of the image that remains appropriate to their changing position. This allows the users to see and interact with each other in a truly shared collaborative manner.
The possibilities for this technology are endless. Other than visualisation applications and virtual rides in theme parks, museums are another predestined application for this ground-breaking technology. Thanks to a personalised, pin-sharp view for each user, everybody can follow the explanations of the guide from their perspective. Every detail is displayed for each user from the right point of view.
The new, compact 33.000 lumen TITAN Laser 33000 projector was also used to create a seven metres wide projection surface. This is a 3-chip DLP projector with DisplayPort, HDMI 2.0 and HDBaseT, suitable for mission-critical and large-venue applications. The advanced electronics also bring features such as Non-linear Warp, Geometry Correction, Edge Blending, Picture in Picture and much more as standard.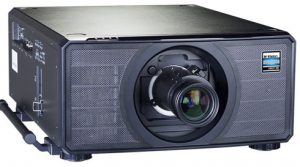 And to finish with the projectors, we have M-Vision Laser 21000 WU and E-Vision Laser 13000 WU. The first model boasts 21.000 lumens and a 10.000:1 contrast ratio; ColorBoost + Red Laser technology provide the most realistic and saturated colours. Also E-Vision Laser 13000 WU has been updated with all-new ColorBoost + Red Laser technology, and comes as standard with HDMI 1.4b, Display Port and HDBaseT connectivity.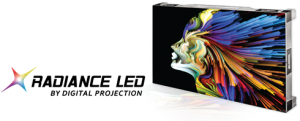 ISE 2019 also saw the return of Digital Projection's Radiance LED panels. With four different pixel pitches to choose from (Radiance LED 1.2, 1.5, 1.9 and 2.5), this Black SMD LED range offers up to 1.000 nits of brightness, a contrast ratio of 3000:1 and a 120Hz refresh rate. It's the ideal solution for various installations including retail, broadcast, control, as well as rental entertainment applications.
www.digitalprojection.com/emea
This post is also available in: Italian