Audio Effetti has recently signed an agreement for exclusive distribution on the Italian A/V market of the PRO product line of Twinkly, a brand of the Italian company Leadworks, a leader in the smart lighting market. In particular, our company will follow the professional division of what is considered the most innovative LED lights for decorations on the market! A few years after its launch in 2016, Twinkly is revolutionizing the lighting world with a range of technologically advanced, patented, and award-winning products.
What are their main features?
Full range of RGB, RGBW, AWW (Amber, Warm White, Cool White) LED lights addressable and manageable via mobile App and cloud to create, once placed on surfaces, professional decoration effects with the utmost simplicity, without hardware and software barriers.
Various areas of use: retail, architectural, special effects, entertainment (shows, parties, concerts, etc.). Twinkly LEDs can be applied to trees, building facades, windows, shopping mall interiors, courtyards, and squares, on Americas, and any object you want to enhance.
Innovative features: thanks to the smartphone App, which is the heart of Twinkly, you will be able to apply and customize special effects and draw your own, with your fingers, on the smartphone display.
Weather resistance: the LEDs are IP65 and can be used outdoors; the connections are hermetic and therefore protected.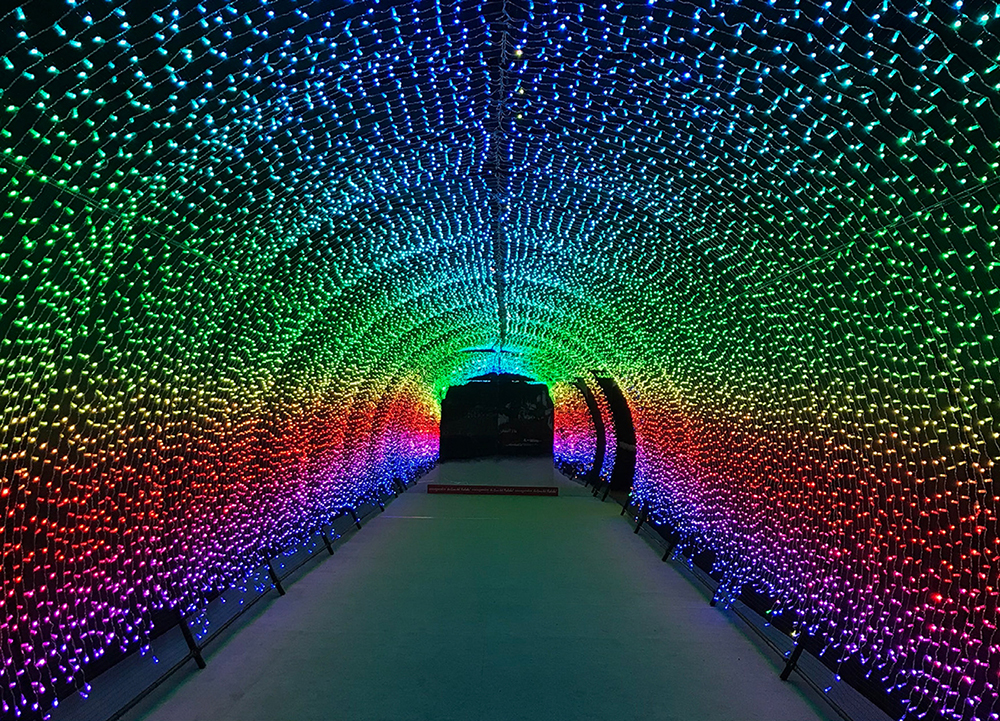 Twinkly PRO lighting systems already boast important references in our country as they have been used to decorate famous places and landmarks. There is really no limit to the imagination when it comes to using these products, which represent – we repeat – the most advanced solution in professional decorative lighting thanks to the use of the latest generation of smart LEDs and an innovative and powerful iOS App with which it is possible to create spectacular, highly customizable sets.
Technology: a definitive hardware project that is the result of a 7-year journey
The idea behind Twinkly was the possibility of being able to make decorative lighting 'smart'. Thus, after the first LED lights for home decorations, professional use was considered, exploiting the same technique with which Twinkly can determine, through a special App, the position of lights on objects. The field of application was then extended from consumer use to increasingly large installations, from shopping malls to theme parks, using as surfaces mainly the facades of buildings, which during the day maintain their appearance unchanged while in the evening they turn into "wonder screens" that light up to amaze passers-by with an assured wow effect.
Regardless of the hardware, the common denominator of the Twinkly universe is precisely that the effects can be controlled and managed with the already-mentioned iOS smartphone App. All the products are born as a complement to the "brain" that lies in the Twinkly app itself where resides that (patented) logic with which, thanks to the framing of the object by taking advantage of the smartphone camera, the software can recognize the position in space of all the individual LEDs (2D/3D Multi-view Mapping) based on how they have been arranged, without – note well – worrying about the positioning of them. Only in this way can animations be made effective!
Going into more detail, the Twinkly system consists of:
Series of addressable Twinkly PRO LEDs that can be individually controlled via the Twinkly App, without the need for a laptop: they can change color and brightness in real-time. You can scroll through numerous predefined effects that will be applied to the mapped layout for the best possible visual result, or create your own effects with the in-App editing functions.
Controller: performs all the calculations and controls necessary for the operation of the display, driving the LED rows. For example, the connection between the mobile device – tablet or smartphone – and the Twinkly PRO controller is via Wi-Fi, connecting the latter to an Access Point via a simple network cable. The controller is powered at 24 V DC by a separate unit.
Twinkly App: the app for configuring all lights and playing advanced effects. A Web App console is also available to fully manage all installations remotely. With this App, devices can be virtually grouped by creating one or more objects. If those to be mapped are three-dimensional, or too large to be contained in a single shot, the system will guide the user in acquiring an accurate map through a step-by-step process with multiple camera points. Finally, if the size of the building is too large, as in the case of a tower or skyscraper, mapping via drone will even be possible. Science fiction? No, Twinkly PRO!
Application-specific products
The process of setting up a lighting system with Twinkly PRO essentially consists of three steps:
Installing the LED strips and connecting them to controllers to manage them via the Twinkly app. Multiple devices can be synchronized and joined into a single configuration with multiple connectivity options: Wi-Fi, Bluetooth, Ethernet;
Automatic mapping of lights using your smartphone to map in 2D or 3D up to 40,000 LEDs in any shape you can imagine;
The playback of effects, applying what you want to your mapped layout by choosing it from the app's extensive, constantly updated gallery or by downloading it online. Each effect is fully customizable. You can even upload photos, videos, or logos to reproduce them on the objects and surfaces you have chosen to illuminate.
Building facades, trees and palm trees, statues, vaults, and the interior of a shopping mall are usually illuminated with the more classic solutions such as strings of LED capsules, IP65 certified, hung one after the other that, viewed in their entirety, reproduce a particular image. You can choose from:
Capsule Strings (light braids), single- or double-branched, with 250 RGB LEDs, spaced 10 cm apart, black or transparent cable.
Bulb Strings (chains of bulbs), with 20 RGB LEDs in the shape of a bulb, faceted or frosted, spaced 50 cm apart, with black cable.
Then there are all the controller series (SPI Ethernet, Power Line Ethernet, Power Line Wi-Fi, SPI Wi-Fi) with more connectivity options and accessories such as Connection Hub 4G Router and Music Player. Without delving too much into technical aspects, we will say that the Ethernet controller is designed for large installations in public areas or large spaces and can handle up to 1,500 LEDs on 6 separate lines, while the Wi-Fi controller is designed for smaller installations of up to 500 LEDs. The latter can run up to 10 controllers as one, mapping them all together via the App, for a total of 5,000 lights!
Last, but not least, is the fact that Twinkly knows virtually no obsolescence. If an installation is designed today with a certain number of lights, you can complete it next year by adding more without having to change the hardware, thus preserving the initial investment.
Strengths
Ease of installation: you can configure the lighting system without professional tools, and you don't have to worry about how to place the lights.
Patented innovation: the Twinkly App uses your phone's camera to scan the lights, map the position of each LED, and turn them into a virtual display.
Multiple connectivity options to meet every need.
Ability to create your own personal effects.
Synchronization and merging of multiple devices into a single configuration.
Web App console to fully manage all installations remotely.
Compatibility with Amazon Alexa, Google Assistant, Apple HomeKit, and the Homey app.