267
There is more than Epson's hand in setting up the first Italian Smart Classroom, at the MIP, the Business School of the Politecnico di Milano. Epson projectors and software designed by Re Mago, an English company specialized in sharing and brainstorming solutions: the future has already arrived at the MIP.
With a conference-presentation held on 2 October, the MIP sanctioned the inauguration of the first Italian Smart Classroom, a fully digital classroom, equipped with eight Epson interactive projectors. As stated by Marco Vezzoli, responsible for the IT for the Politecnico, the MIP has already undertaken for years a process of digitalization of its teaching classrooms, in order to conduct lessons in a completely interactive and engaging way, even for students who follow remotely. The new classroom is able to best realize both digital teaching in the presence, with the aid of the most modern sharing technology, and remote teaching, involving auditors and remote participants.
There are already thirteen classrooms equipped with similar instruments in the Bovisa Campus, in Milan, demonstrating the commitment of the Politecnico towards digitalization. The MIP Smart Classroom uses an innovative technological solution developed by Epson in partnership with Re Mago, an English company that has relied on a largely Italian development team to develop – as said Cristiano Fumagalli, Chief Technology Officer – "a software for visual collaboration and brainstorming, ideal for Smart Classroom as for Smart Meeting Room. The technology is the same, the basic concpt is identical: bring collaboration, both in learning and in work, to a higher level."
The software allows you to share, annotate and present digital content (texts, sounds, images, videos, links) and information in real time from any PC or Mobile device present in the classroom or remotely connected. The eight Epson EB-710Ui interactive laser video projectors, arranged in pairs on the four walls of the classroom, transform them into as many shared work areas where teacher and students can write, share, annotate and modify documents, recording every step of the activity performed and saving everything, at the end, to have a complete and totally usable digital copy. Furthermore, the classroom is perfect for group work and workshops. At the end of the lesson, the participants do not need to photograph the work area or take notes, because the complete summary of what has been done (including sketches, notes, shared files, audio and video recordings, etc.) can be saved, stored and shared through different channels.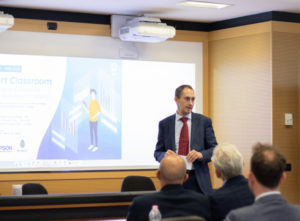 Flavio Attramini, Commercial Manager of the Business Division for Epson Italy, outlined a concise and interesting picture of the "Epson philosophy" as represented by the MIP Smart Classroom: "For Epson" – he said – "it's very important to get in touch with the students, with the new generations. Today's students are digital natives, they learn differently from the generations that preceded them. Therefore, it's right that they have different tools. Teaching becomes multi-directional and collaborative, and it's getting closer to what happens in offices and workplaces."
Attramini's intervention ended with a clear reference to the attention paid by Epson to the theme of sustainability: "Our concept of sustainability" – he concluded – "consists of Energy savings and Waste reduction: well-done digitization also means this, with the ambitious but not impossible goal of reducing to a better world. Especially for young people."
This post is also available in: Italian