308
With a press conference in Milan, in the fascinating NHOW Hotel in Via Tortona, in the Design District, the Japanese company Maxell (who acquired the Hitachi Consumer Electronics brand a few years ago) presented its development plans for EMEA market, with important guests from Japan and a novelty that stands out above all…
The meeting on Thursday, September 26th, in Milan, was an opportunity for Maxell to retrace its long history and to relaunch on the future, not only with projectors (a category of product on which we could well expect a decided investment, given the acquisition of the Hitachi projectors' division) but also in the educational field, with the very interesting MA-XL1 lecture-capture station. All this is enhanced by the presence of important guests from Japan: Keisuke Fujimura, head of the B2B division, and Yukata "Jack" Okuda, Supervisor of global sales. To act as host, Andrea Verga, Maxell Italia's Sales Engineer, who was responsible for introducing product innovations, starting with video projectors.
In fact, starting from 1 April 2019, the company assumed responsibility for all operations relating to the diffusion of Maxell and Hitachi branded projectors and all related accessories on the European market, thus bringing to a conclusion a process begun in 2013 with Maxell's acquisition of all the design, development and manufacturing facilities for Hitachi Consumer Electronics projectors. Spotlights in particular on the new product line with low maintenance laser and LED light sources. The first 3LCD Laser models were released on the market in February 2019: MP-WU5503 and MP-WU5603, WUXGA portable with 5000/6000 ANSI lumens, particularly suitable for the education sector or for medium-sized conference rooms. Both devices have a high contrast ratio (1,500,000: 1) and guarantee 20.000 hours of maintenance-free use, with a 5-year warranty.
In April 2019 instead the MP-WU8801WG and MP-WU8701WG models were released, both with Laser, 3LCD and WUXGA technology, with a contrast ratio of 2,500,000: 1 and 8000 ANSI lumens of brightness. Ideal applications are: museums, retail and large conference rooms, but also complex installations, thanks to the seven optional lenses and interesting automatic tools for blending, stacking and color uniformity.
But the most interesting news comes from the educational sector: MA-XL1, a Lecture Capture Station designed specifically for the university world but suitable for all types of schools, able to realize interactive switching, recording, streaming and uploading lessons. In practice, an all-in-one tool that facilitates the lesson (thanks to the touch screen with many functions) and allows you to create a database of lessons, available via cloud or via streaming, even for distant students who are unable to attend. The strengths of MA-XL1 are the ease of use and the provision of all E-learning tools in a single control and management system, an ecosystem composed of Full HD signals, HDMI, SDI, IP video cameras, and PC video and interactive signals up to WUXGA.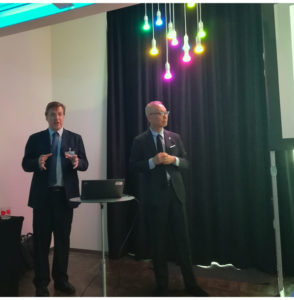 In addition to the presentation of all these innovations by Andrea Verga, with a demo explicitly dedicated to MA-XL1, the speeches by Seisuke Fujimura and "Jack" Okuda completed the conference, on the one hand retracing in detail the story of Maxell and the acquisition of the Hitachi's division, finally finalized in 2017, and on the other hand by indicating in Laser technology the future of video projection and announcing, for ISE 2020, another important novelty, another step in the relaunch of the Maxell brand, with the CORPORATE MARKET division on whose details, however, Mr. Fujimuri made an appointment in Amsterdam next year.
In short, more than a relaunch, for the Maxell brand, it seemed almost an… all in!
This post is also available in: Italian