88
Distributed in Italy by Prase Media Technologies, the sparkling Apart Audio brand presented at the last ISE a series of interesting innovations that are now being launched – thanks to two dedicated events – in our country.
The latest Apart Audio products are available in the Prase catalogue. Presented at ISE 2019, the news were introduced in Italy through two dedicated events organized in May by Prase in Desenzano del Garda and Rome. A real "bridgeheads" for the landing in Italy of ISE news, let's see what these meetings have revealed.


First of all, PREZONE1 and PREZONE2, multifunctional stereo preamps that allow you to independently control the volume in two stereo zones, also offering the possibility of mixing the two microphone levels with four music sources. The design of these products is very innovative and includes an intuitive front panel and an extremely clear rear panel, able to provide every installer with an immediate understanding of how to install the unit. The strengths of this pair of preamps are the high signal-to-noise ratio, ease of use and versatile installation features. The PREZONE2 model offers, in addition to the volume control in two zones, also the control of two stereo sources. In short, these are products suitable for many professional audio applications.


Another noteworthy novelty is the 6.5" Apart P60DT two-way speaker, designed for suspended installation, and to provide high openness for areas and rooms with high ceilings or for large open or semi-open spaces , without renouncing to the clarity of sound, required above all for music reproduction. Available in both white and black, Apart P60DT covers a wide range of applications both in the background and in the foreground. Design, as always when we talk about the Apart brand, is not a secondary element: the speaker integrates well in many contexts and offers a captivating aesthetic, with attention to the needs of interior designers and architects.
The CM20DT speaker is also very interesting, another 6.5" two-way model that can be used both in 16 ohm and 70/100 volt mode. In 16-ohm mode, up to four speakers can be connected in parallel on each channel of a standard 4-ohm amplifier.


The essential feature of this speaker is the ability to blend in and fit into all design contexts: equipped with a thin and paintable grille, CM20DT is an important proposal for integration into design interiors.
Finally, the APDI and APDO converters deserves mention for networking.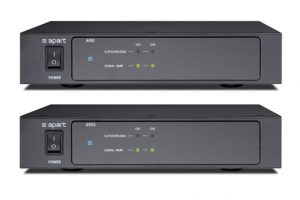 APDI is an analog to Dante converter, and allows you to connect any analog audio device on a Dante network. The usefulness of this product is obvious, allowing any analog audio signal to be transferred over an RJ45 cable and connected to the Dante world. Conversely, the APDO model converts Dante's digital audio into analog audio, and allows the signal to be sent to any analog device from the Dante network. APDI and APDO are both compatible with Dante Device Manager.
www.prase.it
www.apart-audio.com
This post is also available in: Italian
You might also like
---