122
Michael Biwer, Group Show Director of Messe Frankfurt Exhibition, answered our questions about the latest edition of the Musikmesse and Prolight + Sound, the trade show dedicated to entertainment and live events that took place in Frankfurt from 2 to 5 April 2019.
Connessioni – The 2019 edition of Musikmesse and Prolight + Sound represented the synergy of the two trade fairs. Are you satisfied and what was the feedback like? Was the outcome positive?
MB – Overall, we can draw a positive conclusion from the trade fair duo. Once again Prolight + Sound encompassed all relevant sector trends – and it confirmed that the industry sets great store by an exhibition and meeting platform at the heart of Europe focussed specifically on event and entertainment technology. With a far-reaching complementary programme, it also demonstrated that modern trade fair events are not purely product shows. More than ever before they are also an opportunity for knowledge transfer, networking and creative stimulus, offering visitors real added value. This applies especially also to Musikmesse, which – like the music sector as a whole – continues to face challenges. Here we succeeded in establishing new programme elements that proved successful particularly at the interface with Prolight + Sound: among these being the 'Sample Music Festival Area', 'Music Tech Fest' and the 'Future of Audio + Music Technology' congress.


Regarding the synergies to which you refer: these were given particular added weight this year, not only by the numerous shared programme topics, but most especially by organising Prolight + Sound and Musikmesse as parallel events. Holding them simultaneously on four working days was intended to further reinforce the professional tenor of both shows and a look at the visitor breakdown of the 2019 trade fair duo reveals the effectiveness of this measure: the percentage of trade visitors was high at 76 percent, of which 45 percent were from a more senior management level. More than half of the trade visitors came from outside Germany, from 130 countries to be precise. This contrasts with the decline, as expected, in private visitors, particularly from Germany.
With such fundamental strategic changes, opinions will vary widely. Reaction from the sector to the Musikmesse 2019 scheduling was no exception, but we purposely waited until after the show to gauge this reaction, speaking subsequently to many exhibitors and other involved parties. Together with the industry we have now taken the decision that Musikmesse 2020 will take place from Wednesday to Saturday. Thus, the show will open concurrently with Prolight + Sound on 3 days. A main reason for this decision is that there is a considerable percentage of exhibitors for whom end user contact is important.
C – Regarding the new layout of the show, what was the feedback from both exhibitors and visitors? What about Hall 8 in particular?
MB – The previous event provides us with numerous insights. The new Hall 12 has proven to be a valuable addition to Prolight + Sound and registers very high satisfaction levels. The biggest and most modern of Messe Frankfurt's buildings combined a wide spectrum of light, stage and entertainment related topics and offered ideal presentation options.
In addition, the decision to bundle professional audio technology together in Hall 8.0 was generally considered to be sensible. This measure resulted in shorter distances to walk and a higher visitor frequency. Exhibitors also profited from the hall being on ground level making stand set-up and take-down easier and from the central location on the trade fair site. With Prolight + Sound and Musikmesse taking place this year over the same four days it was possible to bring the two trade fairs closer together in a smaller space. Of course, hall planning will need to be adapted for next year, since the step-up and take-down times of the two shows will not coincide. We will shortly announce more details in this regard.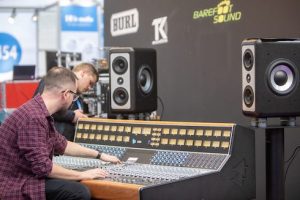 C – Today the entertainment market is constantly evolving and is incorporating new tools like multimedia events, permanent installations, video mapping and so on. Could you comment on this? What will be the future of this sector at PL+S next year?
MB – No doubt the sector in which we are involved has enormous creative energy and the industry continues to be driven by new growth opportunities. The triumphant advance of IP-based transmission now infuses all areas of event and media technology and in particular professional audio technology, where it drives strong dynamic growth, compelling companies involved in the event industry to commit to major investment.
Furthermore, numerous different studies support the many industry voices saying that fixed installation solutions are becoming increasingly important as revenue generators. A key reason for this is increasing visitor expectations at venues such as leisure parks, brand and adventure worlds or museums. Many operators use modern audio-visual media tech solutions to add value to the visitor experience. Another driver of growth is the strong demand for immersive experiences, including virtual and augmented reality as well as 3D and spatial audio, holography or indeed the area of video mapping to which you referred.
Every year these trends we mention take an increasing amount of space at Prolight + Sound, changes that are not only apparent and tangible in the exhibitor areas, but also in the conference programme. For example, the new CAVIS conference series, 'Congress for Audio-visual Integrated Systems' includes lectures which focus on fixed installation solutions and digital signal transmission, including a full day devoted to training on the DANTE certification programme. In addition, the successful 'Immersive Technology Forum' has been extended into a four-day event. Of course, going forward we will continue to position Prolight + Sound as a launch platform for innovative solutions that drive and influence the industry in important ways. This will involve building on the most recent successfully executed event formats and continually developing new, progressive presentation options.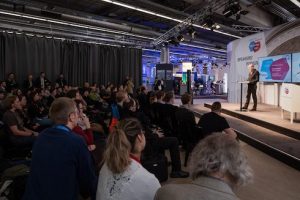 C – You mentioned the fringe programme of Prolight + Sound and Musikmesse. The 2019 edition included events, many of which took place outside the trade fair. Could you share with us your views on this?
MB – Alongside the previously referred to conference programme which comprised around 300 workshops, panels, lectures and masterclasses, our aim is to offer a real experience of innovations in the industry. Working with key market players such as d&b Audiotechnik, L-Acoustics and Meyer Sound we have created indoor arenas to demonstrate immersive audio solutions. PRG again transformed the Festhalle into a showroom spectacular featuring the best of concert touring and this year incorporating more and more AR elements, while outdoor sites became arenas of live sound, offering many audio companies the chance to present their PA systems under open-air conditions.
This was further complemented by a diverse entertainment programme with over 200 concerts and live performances held on the trade fair site itself. At around 100 locations across the whole of Frankfurt concerts also took place as part of the 'Musikmesse Festival'. The purpose of this festival is not simply to offer visitors and exhibitors memorable musical experiences, it is positioned moreover as a show of application examples, demonstrating how new, music and event industry products perform live.
C – Finally If you like, this interview can be the occasion to comment some aspects regarding the exhibitors' decrease. The Italian ones are present in good number every year, but last edition we had the impression the show was smaller. What's your comment on this figure?
MB – With such a wide-ranging trade fair duo such as Prolight + Sound and Musikmesse it is not unexpected that the individual product sectors and thematic areas have different growth trajectories and so also reflect the developments in each individual sector. Over recent years the event has grown strongly first and foremost in segments with short innovation cycles and increasingly market volumes. This includes a large part of the light segment including LED, digital audio solutions, AV media technology and projectors to name but a few. The whole theatre sector has also become a strong driver of growth at Prolight + Sound. No other comparable event covers this sector in such depth. This is juxtaposed by a decline in some instrument sectors especially electric guitars and drums. In close cooperation with both new and existing partners, we will establish new formats with the intention to make key players from these segments part of Musikmesse again.
The development in terms of exhibitor nations is just as diverse. Countries from where we have seen growth include Spain, the Netherlands, the Czech Republic, Canada and India – while there has been a slight downward trend from Great Britain, France, Poland and Sweden. Italy was one of the top exhibitor nations again in 2019 with over 100 companies represented.
pls.messefrankfurt.com/frankfurt
This post is also available in: Italian
More from Events
---

202
Limitless combinations of audio, video and control over the Q-SYS platform from QSC, based on an open and effective AV …