102
In the words of Nicolas Berg, Sony's Marketing Head Europe, which we met at ISE 2019, Education and Workspace Environments have a crucial importance for Sony: there are many innovations announced and presented by the Company
Sony is not a "simple" planet, but looks more like a real galaxy. The work and educational spaces are at the center of this ISE 2019, they are the axes around which the Sony galaxy rotates. Not the only ones, but we start from them to try to give an overview of the many innovations of the large Sony's stand (1-N20) in Amsterdam fair.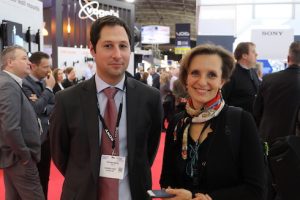 First of all, here is the innovative Edge Analytics Appliance REA-C1000, based on Sony's AI (with machine-learning technology) and designed, as Nicolas Berg says, "to simplify the work of teachers or lecturers and improve the listeners' or students' experience." A proposal, therefore, valid both for Corporate presentations and for school lessons. The new REA-C1000 is capable of automatically analysing and understanding video content in real time, to improve the quality of visual content and enhance audience understanding. Whether used in presentations, meetings, lectures or seminars, the Edge Analytics Appliance will drive a better connection between public speakers and audiences, giving presenters the power to reach every audience member in any environment, however remote. Handwriting Extraction technology extracts and enhances text written by a presenter on a black/white board, meaning written characters can be recognised, and on a separate display can then be overlaid onto the presenter in real-time. This enables audience members to be always in-step with the presenter's thinking process by seeing the gestures and expressions, and never left behind – even when at the back of a large auditorium. Edge Analytics Appliance has been designed to work in conjunction with both Sony's cameras such as PTZ cameras and XDCAM camcorders and other inputs including desktop or laptop devices by simple HDMI connection. Other features of REA-C1000 include: Chroma key-less CG overlay, PTZ Auto Tracking and Focus Area Cropping.
Also for Collaboration and Educational, here is Vision Exchange 1.2, with UX/UI improvements, system expansions and greater support for BYOD. Vision Exchange has been designed to empower new levels of collaboration and active-learning, and visitors to the stand can see first-hand through university-style demonstrations how it can enhance the teaching and learning environment in different education scenarios.
Moreover, from Sony and UbiCast, lecture capture solution provider, here is the new flexible, scalable and network-based lecture capture solution: Miris Netcapture, which seamlessly integrates with Vision Exchange to create more engaging and interactive video content for learning. While Vision Exchange shares and annotates content from laptops, smartphones or tablet devices to the front of a classroom, Miris Netcapture records the streamed content and transfers it to UbiCast's MediaServer video platform for editing, managing and distributing the video content through a video player dedicated to social learning. Nicolas Berg comments on the launch of Vision Exchange: "Initially teachers and lecturers were reluctant to use it, but Vision Exchange has already been adopted by several big Universities, including Bocconi in Milan. The teachers find it easy to use and effective."
Smart buildings and work space management are two other "hot" topics, and here are the well-known TEOS solutions. At ISE 2019, Sony has unveiled the latest updates to its TEOS suite of smart building solutions. TEOS Manage 2.0, the most significant update to the system since launch, sees the introduction of transformative new features and controls designed to expand its functionality and impact across the corporate environment. The latest improvements to the TEOS family include: Universal Employee Application, Room Control and New Universal Meeting Room Sensor. At the Sony booth at ISE 2019 you can see all these solutions for building management, reception, room reservation and environmental control.
And finally, ISE 2019 also saw the launch of two new installation projectors. VPL-FHZ75 offers 6500 lumens while VPL-FHZ70 reaches 5500 lumens, these are very compact WUXGA resolution projectors based on "Reality Creation" technology. Both models also feature an "Intelligent Setting" feature to allow an optimal setting and offer reliable operation for the long term.