179
Axis Communications has unveiled its first wearable camera designed for law enforcement and private security
The benefits of Body Worn Cameras for finding evidence, discouraging crime and training agents or security personnel are well known. Now comes the new proposal by Axis, a Body Cam built on intense research and development. The solution includes a particularly robust camera, a docking station (with one or eight slots) and a system controller. The open architecture allows integration with other video management systems (VMS) as well as test management (EMS), locally or in the cloud, ensuring flexibility. The camera can also be supplied as an end-to-end solution using AXIS Camera Station and AXIS Case Insight, Axis' VMS and EMS software.

The camera captures images at a maximum resolution of 1080p/30fps, while the audio is captured by two microphones with noise cancellation. Wide Dynamic Range technology ensures high image quality even in the most difficult lighting conditions, while Axis Zipstream reduces the necessary storage space. The battery is designed to last an entire shift (12 hours of normal use) and can also be charged in the car or via a power bank. The controller represents a single interface of integration and management, allowing a simple and quick offload of the videos (100 Mbit per camera). All data is encrypted also during transfer using the AES256 and TLS algorithms. In addition, video data can be fully encrypted in end-to-end mode with specific integrations.
The camera also integrates a GPS/GNSS receiver for geolocation, Bluetooth Low Energy 4.1, IEEE 802.11b/g/n and six-axis gyroscope with accelerometer. Finally, the AXIS Body Worn Assistant application for mobile devices allows you to review movies and add categories, descriptions and notes.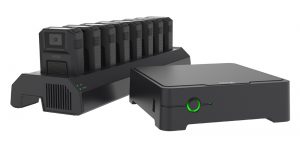 Fredrik Andersson, Global Product Manager, New Solutions Initiative, Axis Communications, explains: "For this new Body Cam, the biggest challenge was finding the right combination of size, weight, strength and battery life. We viewed the customer's requirements with a holistic approach, from capturing the footage to presenting the evidence in court. It's also essential that wearable cameras are easily used in the field by agents and security personnel, who may be in stressful situations, unfavorable weather conditions or poorly lit areas. We also wanted the same ease of use for offload, archiving and analysis staff of the captured videos."
The Axis wearable camera will be available from the second quarter of 2020.
This post is also available in: Italian