We had the opportunity to directly experience the new ATEN UC8000 AI Audio Mixer MicLIVE 6-CH: a simple to use, versatile and high quality product to create, even with few means, very effective podcasts.
We are in the era of the podcast, a bit like the 80s were the era of music via Walkman and the 90s those of the CD. Today audio broadcasts via the internet on the most disparate topics are the most popular, just look at how many YouTube channels have been born only in recent years dedicated to scientific dissemination… the public is perennially looking for valid and interesting content, or aimed at a specific sector; but the real novelty is that almost anyone can produce them, with a limited investment and a very high quality yield, in any case perfectly in line with the expectations of the public.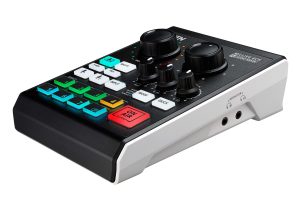 UC8000: the simplicity of USB-C at the service of audio
We have experienced firsthand the latest ATEN proposal, which is called UC8000 and is an AI-based audio mixer, with 6 available channels, inputs/outputs via USB-C, 24 Voice Effects, Auto-Ducking and a lot of management software. intuitive (also via app). But let's start from the constructive merits: the strength of this product is its simplicity. With a single USB-C cable, you can build a sort of mini-recording studio anywhere, in any location and, with the help of a computer or smartphone, broadcast your content. UC8000 offers two 6.3 mm XLR jack inputs (for microphones or musical instruments), a 3.5 mm jack input for smartphones, microphones or audio players in addition to the USB-C input for PC or Apple. Two headphone outputs, so that both participants (in case of two-voice transmission) can have the audio return in the headphones. We could not experiment with this configuration with two speakers, we limited ourselves to one, with a Sennheiser professional dynamic microphone (but it is also possible to use condenser microphones or consumer microphones), and we made a short live on YouTube (used simply as a platform). destination) dedicated … to the "Recherche" by Marcel Proust! How to combine the best of technology with the best of literature of all time!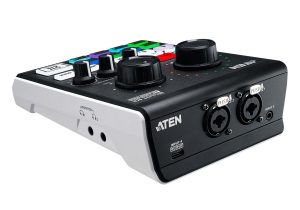 On the side of AI
UC8000 is a product equipped with AI technology, which transforms even the simplest and cheapest microphones (we used a professional model, but it is possible to use any type) into real studio microphones. In short, MicLIVE is an audio mixer optimized for artificial intelligence, and this is a great innovation: the integrated Smart-EQ AI greatly improves the quality of the recordings and highlights the voice of the speakers' speakers, because in a podcast of course, the essential thing is the intelligibility of the voice. Adjusting the audio is also very practical, through a wheel control which, through the return to the headphones, allows you to immediately grasp the volume variation and adjust it as you wish. Spectacular are the voice effects, which include different options, from the enhancement of male and female tones to the classic reverb, through various other fun and varied effects, which can help make broadcasts more interesting, witty or expressive.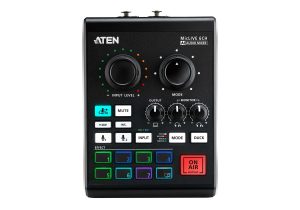 Few buttons, many options
Small, light and not at all bulky, UC8000 MicLIVE can be installed in an instant and offers the advantage of not confusing the user with an infinite number of buttons, commands and controls. The broadcast button, for example, is simple and intuitive, you press and start recording, press again and stop. A single user can independently create a professional-level broadcast thanks to the all-in-one design chosen by ATEN.
With up to 6-channel audio inputs and DSP and AD/DA converter, you can import audio up to 24-bit/96kHz to any laptop or tablet with a USB-C connection. In addition, it is also possible to save up to eight customized sound samples from computer audio sources, microphones or other audio inputs, thus creating a real "personal radio station." Obviously, there is also the important automatic volume down function, which reduces the background music every time you speak (we tried … chatting about Proust while playing a Camille Saint-Saëns symphony in the background, the same as – according to some – it would have inspired the writer in the description of the famous little musical phrase that acts as a counterpoint to the love between Swann and Odette de Crécy).
Podcasts everywhere
So if the challenge was to bring powerful features to an easy-to-use product, we can declare it won. To complete the technological equipment of the mixer. ATEN UC8000 audio, phantom power and a studio preamplifier, to achieve a crystal clear, low-noise signal with 24bit/96kHz playback and recording. MicLIVE also features eight customizable jingle pads that allow you to activate sound effects in real time. You can record directly on a pad from any MicLIVE input or assign the audio and color of the pad via the On Air app that can be installed on a smartphone or computer.
Finally, as far as power is concerned, MicLIVE UC8000 works thanks to the 5V USB connection but can also be powered by a mobile battery, designed as it is to be used anywhere for audio mixing and streaming. In short, any place can become a radio studio in a few minutes, and broadcast an interview, a speech or live music. And speaking of live music, we cannot fail to close this article without revealing why we chose Marcel Proust as the subject of our live broadcast experiment thanks to MicLIVE UC8000. Well, he was subscribed to an extraordinarily avant-garde service, for the time, and available only in Paris: he could listen to the work, live, via telephone, comfortably seated in his living room or lying on his bed. In short, he was an ante litteram podcast enthusiast! He would undoubtedly have liked the ATEN UC8000!