106
In 1976 Alan J. Pakula produced the famous "All the President's Men", an epochal film that outlined an entire, complex social and political scenario; let us paraphrase this famous title to take a look at the control room according to ATEN.
We like to propose parallels between technology and cultural history, because technology is also a cultural, social and, in some cases, even political fact! Without exaggerating, let's dedicate a bit to the idea of a control room that emerges from ATEN, well-known company specialized in connectivity and management solutions and access and sharing technologies. We start with a general identikit: an ATEN control room offers advantages such as remote management, noise limitation, connection stability and centralized hardware control, which are reflected in greater flexibility of work spaces, with ample scalability and integration between AV and IT. To complete the picture, advanced videowall functions and boundless switching.
So far, all beautiful concepts. But, on the field, who is in charge of realizing these functions? Who are the "agents" of ATEN, with the mission to best structure a demanding environment like the control room?
First of all, here are the multiview desk KVM switches, designed to monitor and manage multiple computers on one screen.



CM1164A is a 4-port, multi-view switch USB DVI which, in cascade connection, can control up to 16 computers with multi-view mode up to 4 x 4, and guarantees a very simple boundless switching, with a click of the mouse. The CM1284 is instead a 4-port 4K USB HDMI switch that brings 4K quality into the control room scenario, adding an important possibility for users. Control rooms do not mean low quality images, quite the contrary.
Then, matrices come into play, which guarantee real-time access to manage up to 32 video sources and as many displays. The VM series, with ATEN's Seamless Switch technology and integrated scaler, eliminates the problem of black screens when switching from one signal to another, in matrix or video wall mode (very important configuration in the control rooms!). The creation of wide and panoramic videowalls is easier thanks to the integration of the ATEN matrices. But the real strength of the ATEN control rooms is the KVM over IP solution that creates a real virtual matrix: multiple transmitters and receivers can be configured in matrix mode to serve multiple workstations, for each of which settings can be applied specific security and user. This solution removes the constraints of wired solutions such as the classic KVM matrices and supports the main video interfaces (VGA, DVI, HDMI, DisplayPort) up to 4K resolution. ATEN's KVM over IP virtual matrix system provides control room operators with the flexibility of a gigabit ethernet network (over copper and fiber) with redundancy and failover support. The KVM over IP technology is the protagonist of an ATEN's important Italian reference, in the control room of the Questura di Torino.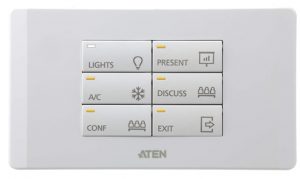 And now, the final touch: a hardware control system that allows you to quickly and easily make changes. All hardware devices in a control room are managed by a GUI or a keyboard that is easy to configure and use. The system consists of control and expansion boxes (which offer additional serial ports, IR and relays that increase the flexibility of the system), control interfaces and software. You can also control hardware devices also through a special App, or with the usual wall-mounted keypads.
With these field agents, the result can only be remarkable!
www.aten.com
This post is also available in: Italian
You might also like
---