123
The first augmented reality configurator for the digital signage market: this is ARc, the new proposal by Philips Professional Display Solutions which, after the debut at ISE, arrived in Italy on the stage of IntegrAlive, at the MIR of Rimini.
ARc arrives in Italy. This new Philips application allows you to preview, right from the design, the real appearance of digital signage installations, videowall or single displays.
The Philips brand has always included among its distinctive features the research and introduction of innovative solutions, which aspire to be even avant-garde. In fact ARc, the augmented reality application developed by the Professional Display Solutions division, looks ahead and is, in effect, "a look at the future."
The phrase, in this case, is to be taken almost literally, because ARc has been designed to optimize the design of digital signage solutions, offering customers and system integrators the possibility of visualizing, with tablet or smartphone, the final result in preview. A look at the finished work … before it is even started!


Said in this way, ARc may seem like a time machine, which explains our title, a bit evocative. Moreover, ARc actually offers the possibility of accurately recreating the appearance and layout of a Philips PDS display – for any size and type of wall – allowing system integrators to better illustrate ideas and projects to their customers, indeed, to literally "guide" them through the delicate phases of product and models selection, to obtain the desired result.
ARc is particularly easy to use, thanks to a very functional and accessible augmented reality toolkit. In fact, through the camera of the device (smartphone or tablet), the app in a first phase acquires the measurements and the salient features of the destination surface, and later shows all the models available for the virtual installation on the wall.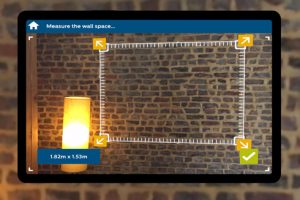 Furthermore, ARc allows you to automatically animate the chosen surface with multiple displays, for example with a videowall configuration, allowing the designer and the customer not to use… stairs, elevators or other assembly tools! In short, the project can be studied in all its parts and under different angles, to address and resolve any critical issues in time.
ARc is a "double-edged" tool, therefore, useful for both design professionals and customers, who can easily view a credible preview of the installation.
The Philips partners have given an extremely positive feedback to ARc. The presentation made in the IntegrAlive area of MIR 2019, in Rimini, marks the arrival in Italy of this very interesting novelty, which can be downloaded for free from Apple Store and Google Play.
www.philips.co.uk/p-m-pr/professional-displays/arc
This post is also available in: Italian