A schedule to be created with Absen, Sharp/NEC, and Novastar technologies.
No, TV is not dying. Let's peacefully ignore the market surveys that report the crisis of television and its viewers. It's much more interesting to observe how a cultural shift has driven broadcasters to redesign their schedules and even their broadcast studios. Take the example of Antenna Sud, a local reference for Puglia and Basilicata, which has transformed its studios to prioritize flexibility, not only for today's programs but also to accommodate new ideas and schedules yet to be written.
The entire video project was carried out by Provinciali srl using Absen, Sharp/NEC, and NovaStar technologies.
"This expansion project arises from a dual need related to Antenna Sud's corporate mission. On one hand, strengthening the tools for information and social, economic, and cultural promotion available to our public service; on the other, responding in a more precise and appropriate way to the needs of an increasingly attentive and aware audience. For this reason, we envisioned a completely new installation, providing new means and technologies to our communication professionals, who are committed every day to inform and entertain viewers," said Mimmo Quaranta, RD Manager at Antenna Sud.
The entire video system was conceived as the skeleton of an ever-evolving environment. One side of the studio was enhanced by a large 26-square-meter LED wall, composed of two consecutive walls forming a 90-degree angle. Two meters high and respectively seven and six meters long, they were created using the indoor Absen K1.9 Plus model. The 1.95 pixel pitch, 700 nit certified brightness, and color rendering passed the rigorous tests of the direction, while the mechanical characteristics facilitated implementation.
"The ultra-thin profiles and magnetic attachment system of the LED modules confirmed during the initial installation phases that the Absen K1.9 Plus panel was the most suitable solution, especially when placing the two walls orthogonally," Quaranta added.
On the other side, a large 5×3-meter videowall composed of 15 Sharp/NEC Multisync 552VS screens completes the project. The selected display, with a frame of only 0.88mm and a brightness of 500cd/m², ensures extraordinary legibility of texts and images, even in critical ambient lighting conditions. Additionally, the various accurate and versatile calibration functions proved capable of meeting the specific needs of Antenna Sud's studio.
"Our goal was to offer the most engaging visual experience possible, while ensuring impeccable images that are bright, naturally contrasted, and true to color. From a practical standpoint, we particularly appreciated the ability to centrally manage all devices through the NaViSet Administrator 2 software. It allowed for speed and convenience of intervention both during installation and in subsequent moments," continued Pierluigi Granata, Technical Manager at Provinciali SRL.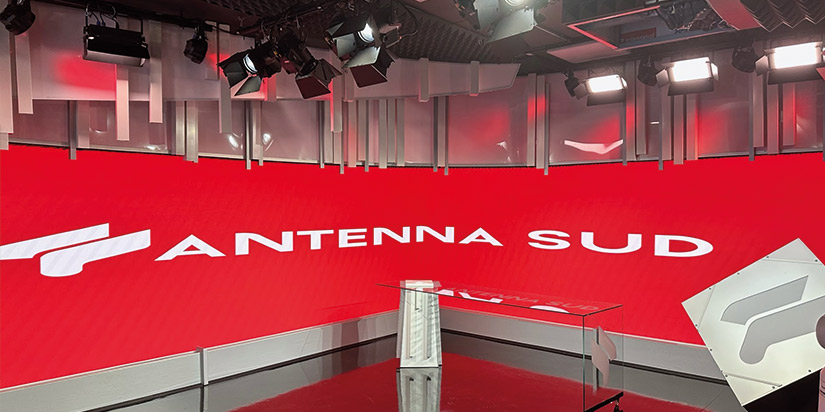 The new studio cannot do without a fluid and versatile video signal management. For this, Provinciali relied on the Novastar H9 video splicer and its input-output cards. Besides its ease of use, the Novastar system was appreciated for its first-rate technical features, like the 16 layers provided by each output card that can be located, overlaid, resized, and configured limitlessly. Novastar H9 also ensures real 4K signal collection, processing, and output, as well as smooth and complete management at 60 FPS of the input and output signal. Furthermore, this processor highlights the flexibility of the new studio thanks to the various available input and output cards, making it modular, easily expandable, and scalable.
"Once again, there was a need for a system that combined maximum ease of assembly and maintenance with indispensable visual quality. Alongside such versatile and high-performance output devices, the Novastar H-series processor was certainly the candidate with the best qualifications to adequately fulfill the pivotal role of the video system's heart," Granata continued.
Absen, Sharp/NEC, and Novastar technologies are distributed in Italy by Prase Media Technologies.
Technologies
10 ABSEN K1.9PLUSTL
52 ABSEN K1.9PLUS
16 SHARP/NEC UN552VS
1 SHARP/NEC KTRC3
1 SHARP/NEC KTLFDCC2
1 NOVASTAR H9ENHANCED
1 NOVASTAR H4HDMIIN
1 NOVASTAR H1XHDMI2.0IN
1 NOVASTAR H16RJ452FIBERO UT
1 NOVASTAR H43GSDIIN
1 NOVASTAR H2RJ451HDMIPR EW