32
This edition of ISE, even before the contents (always very appreciable), will certainly be remembered for the hybrid mode in which it was staged. For those who, like myself, have followed remotely, the opinion is quickly formulated: an experience to be replicated for sure!
There is certainly a big difference between an event live experienced, in presence, and one followed at a distance, from home or office; but the 2021 edition of ISE, from the point of view of the users, offered a remarkable opportunity: participating in the event anyway, despite the restrictions and difficulties of moving in Europe (and in the world!) in the period of covid pandemic. In short, Integrated Systems Events' decision to carry out the fair in a "hybrid" key is right, to give everyone the opportunity to attend presentations, events, round tables and conferences. The "risk" (if we can speak of risk!) Is that this method of realization… is liked too much, and becomes indispensable in future editions!
After all, the convenience and ease with which it was possible to follow very interesting interventions and very in-depth (technological and market) insights will not go unnoticed, especially for those who live and work far from Barcelona, and a trip to visit ISE – in "traditional" sense – perhaps he wouldn't have.
But let's talk about the contents. What about this Cisco digital platform for streaming events and on-demand content? Undoubtedly very effective, it was enough to register (a bit long the form to fill out, with many questions and many mandatory fields, but extremely intuitive) to be able to access both "live" content from Fira Barcelona, and – in the following days, but also starting a few hours after the events – to the vast choice of materials in the archive. It was enough to log in, scroll through the screens of available interventions and choose which one to watch, thus having, by the way, also the possibility of recovering an event or presentation afterwards. In this sense, ISE 2021 will last much longer than the traditional days of the Fair, and will offer a much more extensive and usable service in terms of communication and information.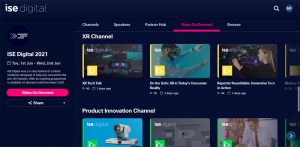 Also in terms of quality, the platform gave, in my opinion, an excellent response. The home screen offers all the options you need, offering a choice of content depending on the type, channel or topic. A convenient browser inside the platform also allows you to search for events with keywords, while in the "Partner Hub" section you can easily find the contents of the branch partners of the event, starting with AVIXA, CEDIA and KNX. Finally, the "Video On Demand" section offers a wide choice of topics: from the "classic" territories of Smart Building and Digital Signage to the most eclectic contributions on XR and Product Innovation (among my favorite videos). A report on each contribution would be impossible, for reasons of space; I can only say that one video leads to another, and there is something for all tastes, from interviews to demos, from presentations of technological innovations to speeches on market and development issues.
I conclude on a personal note: beyond the health emergency, this "hybrid ISE" of presence and digital was a nice surprise for those who, like myself, are terrified of flying! Following the fair from the sofa at home does not convey the pleasure of personal meeting, handshaking and the physical company of people, but it is certainly a good compromise for staying up to date and enjoying interesting content about the AV and integration world.
This post is also available in: Italian