121
A well-known company not only in Italy, but also in Europe, Comm-Tec hosted a variety of brands on its stand in Amsterdam – from the fundamental Barco, also present with its own stand, to the interesting Swedx, Newline and Zygnage – each with many news
Visiting the Comm-Tec stand always means immersing yourself in a world of various brands and products, crossing all the nuances of digital signage, collaboration and signal distribution. This ISE 2020 did not represent the exception to the rule, and to obtain an agile but exhaustive overview of the many innovations we spoke with Gianluca Zagaglia, new Comm-Tec's Manager for the Center-South area.
Obviously, the honor of opening is up to Barco, "strategic brand for Comm-Tec" – as Mr. Zagaglia immediately points out – "because it offers unique solutions on the market for professionals in various sectors, from the Live & Rental world to the Corporate, through the ClickShare platform which, as far as collaboration is concerned, is now almost a market reference. Here at ISE, however, the real novelty of Barco are the new products of the CX series, with integration for video conferencing, that is the possibility of interfacing PTZ camera systems and soundbar to the ClickShare central unit."

If Barco is the flagship brand, there has been no shortage of news from less impressive but equally sparkling brands. For example, Newline presented a new series of interactive whiteboards and displays from 65" to 85" with integrated Android 8 and the ability to install all Windows applications. The displays, designed for the Educational and Enterprise sectors, are also equipped with a 25W soundbar and a 4K camera. "The market today asks for 4K", Gianluca Zagaglia points out, "in particular for applications such as design studios, which require high image definitions."
The overview in Comm-Tec booth then continues with Zygnage, which decisively leads us into the Digital Signage world, with 16:9 and 1:1 displays, frontally opaque, high contrast and with a high viewing angle.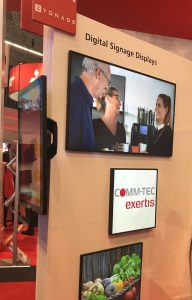 "These are products designed explicitly for digital signage" – explains Gianluca Zagaglia – "also available in unusual formats, such as 1:1. The thickness is 1,3 cm, and they are displays that can also be installed in video walls, which adapt to all environments. The real ISE novelty by Zygnage, however, is a new model, slightly thicker than the others, equipped with an integrated player."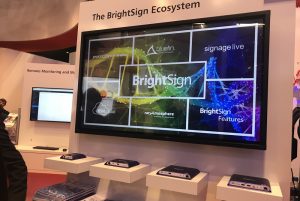 And speaking of player, here is the BrightSign brand, present at ISE with various accessories and new sensors, which offer different possibilities, from facial recognition to the identification of individual products of which the display is able to provide all the information. In short, very flexible solutions, even in video wall applications.
Finally, news also from Swedx, with a new two-face totem with interactive display, useful for hotels and exhibition areas, and by Evoko, with new slightly more practical outside doors with magnetic hooks.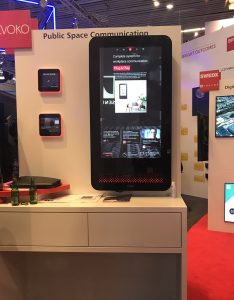 Gianluca Zagaglia, however, wanted to conclude his exhaustive interview with a classical Comm-Tec's product, DaisyNet: "It's a multi-format extender-switch that can be installed under the classroom or meeting room tables, to interlace HDMI, VGA and Display Port, with the possibility to work via Ethernet and to connect products in cascade. A display can be connected to each switch, and the result is that, with two CAT5 cables, various devices can be connected and images and signals can be distributed to all endpoints in a very practical and fast way."
This post is also available in: Italian