94
Leading European rail network live streams and records simulation over standard 1 Gigabit network for enhanced training.
Siemens Rail Automation is a supplier of signaling systems to the rail industry worldwide. The signaling system is fundamental to the safety of a rail network. Thorough initial training and regular refresher courses in a realistic environment is essential to maintaining the signalers' competency and knowledge of operating procedures. Siemens collaborated with Matrox to implement an IP-based simulation environment for their European-rail-network client with an innovative use of streaming and recording of multiple video feeds.
A simulator allows a trainer to vary scenarios—by changing the weather, introducing obstacles on the line, incidents in stations, broken-down trains, or other things that affect the scheduling of movement of rolling stock. The trainer needs to monitor a trainee's reactions to a particular scenario. To be able to view the entire session later, for analyzing, and pinpointing areas of improvement, each individual trainee's performance needs to be recorded as well. The trainee operator's signaling desk contains multiple monitors for the signaling application that shows, amongst other things, the state of the signals, dynamic speed limits, state of points on the track, and train positions. Additional screens from other collaborative applications, such as timetabling, are also displayed for the trainee.
Siemens Rail Automation met their client's need by leveraging Matrox's video wall and enterprise encoding portfolio as building blocks to create an end-to-end, IP-based simulation system—all on the client's 1 Gigabit Ethernet network.


At the individual trainee stations, "operator" workstations host a Matrox multi-display graphics card to power an eight-monitor, 4×2 desktop configuration. In the same PC system are two Matrox Maevex 6100 quad 4K enterprise encoder cards. Capable of simultaneously capturing, streaming, and recording up to four 4K inputs, Maevex 6100 in this case captures quad Full HD inputs, composites them as a single 4K signal, and streams them to a collaborative video wall, ensuring that the time correlation between the individual screens is not lost. This is important for the trainer to get a realistic picture. In addition to the above are three dual-monitor timetabling workstations and a quad-monitor trainer workstation, each with a Matrox graphics card and Maevex 6100 encoder card to stream desktop content to the collaborative display wall.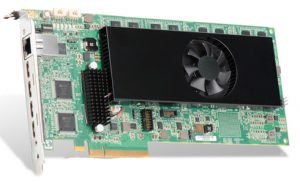 The video wall can also be used collaboratively to replay and review the training session. This is all from a single, low-footprint Blue Chip Ultima 2M system that hosts a combination of Matrox Mura IPX decoder cards and Matrox Mura MPX input/output video wall cards, which work together to seamlessly decode and display the various incoming streams. To complete the offering, Matrox provided product and configuration training for Siemens personnel, onsite at Siemens Rail Automation's headquarters.
www.siemens.com
www.matrox.com
This post is also available in: Italian
More from References
---
11
Important news from the German d&b audiotechnik brand, which enriches its loudspeaker systems family with the new 44S: high performance …