121
The world begins to reopen after the most acute phases of the pandemic, and Shure – a brand distributed in Italy by Prase Media Technologies – launches the new features of SLX-D, Digital Wireless System designed for various applications, from university classrooms to places of worship to live shows.
It seems that we can finally start planning the return of live music: news that many were eagerly awaiting! Shure is certainly not unprepared, with the SLX-D, a mid-range wireless system that boasts dual receivers, ideal for traveling bands, with drop-down charging docks that allow easy charging without removing the battery from the transmitter. The all-metal handheld also features an OLED display that allows you to check frequency, battery and connection status, as well as change settings wherever you are.
This remarkable system is now complemented by some new features just announced, which aim to bridge the gap between SLX-D and high-end wireless systems. First, full compatibility with Wireless Workbench 6 and ShurePlus Channels mobile applications will be offered as a free upgrade. Wireless Workbench 6 allows you to remotely monitor and manage Shure wireless systems without interrupting production. The Timeline function even allows you to track RF data and check its efficiency in post-production.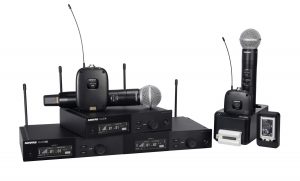 ShurePlus Channels, on the other hand, allows remote, real-time precision monitoring and control of Shure wireless systems. Features include audio measurement, RF meter, ShowLink signal strength, and frequency assignments with band, group and channel information.
In short, the SLX-D Digital Wireless is an ever easier system to configure and use, with all-metal transmitters with system control and status from the transmitter display. Other salient features are professional-grade networking, True Diversity signal redundancy, easy IR sync with setup wizard, and scalability, with single and dual receiver versions.
The Shure brand is distributed in Italy by Prase Media Technologies.
This post is also available in: Italian