210
NEC Display Solutions has installed one of the largest control rooms in the world with LED displays: we are in Riyadh, the capital of Saudi Arabia, and the client is Saudi Telecom Company
256 square meters with a 1,5 mm pixel pitch: this is the visiting bill for the new LED display installation by NEC Display Solutions Europe. The agreement signed with Saudi Telecom Company, in fact, involved the installation of one of the largest LED control rooms in the world, inside the main NOC (Network Operating Center) of the communication company. In addition, the agreement also includes the installation of a video wall consisting of 200 smaller LED displays and screens in the SOC of the Unified Network Operation Center (UNOC) within the STC complex of Riyadh in Saudi Arabia.
NEC was responsible for the design, production, supply, installation, testing and commissioning of the huge video wall, working in partnership with Saudi Media Systems. To date, NEC Display Solutions has produced and delivered more than 1,5 million large format displays, and has entered into partnerships with more than 200 airports worldwide, without neglecting the provision of more than 125,000 displays over the past five years to restaurants and fast food chains throughout Europe.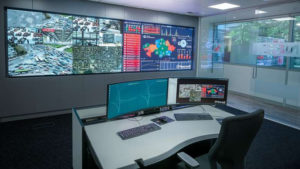 "Our agreement with STC represents a milestone that highlights how NEC is one of the very few manufacturers in the world able to provide customized display solutions to government agencies and large companies", explains Enrico Sgarabottolo, TIGI Sales Director of NEC Display Solutions Division . "NEC is able to cover all aspects of design, starting from feasibility studies, design, production and installation, testing and commissioning. We select the most suitable display technology and back-end processing solution not only for NOC (Network Operation Centers) but also for data centers, control rooms and SOC (Security Operation Centers)."
"STC is happy to partner with NEC Display Solutions in view of a complete turnkey solution for the successful operation of UNOC. The agreement reflects the constant efforts of STC to build strategic partnerships with global realities to provide first-rate digital services and innovative solutions to our customers capable of implementing the digital transformation of the Emirate", said Abdullah Al Mazrou, GM, Buildings and Fleet Management of Saudi Telecom Company.
This post is also available in: Italian