144
The new RCF Business Music line, which will be presented in Amsterdam at ISE 2020, offers a complete range of products enabling Commercial Audio systems to be designed for both background and foreground music
Conceived for all applications that require high audio quality, flexibility, and scalable architecture, the new RCF's Business Music series allowing the distribution of different audio channels in different environments, each with specific volume and equalization needs. The target application range is extremely wide and varies from retail stores to bars and restaurants, meeting rooms, education or public facilities, and in general to any A/V application. The new Business Music line includes both Amplifiers and Speakers, with the aim of offering complete sound solutions and maximization of the overall acoustic performance.
Amplifiers feature an extremely compact size (1/2 rack unit width and 1 rack unit height) making them ideal for both desktop and rack installation (with the dedicated optional accessory). Their design, together with environmental robustness (IP 30 protection grade and high-efficiency thermal dissipation), represents a crossover point between professional and consumer markets.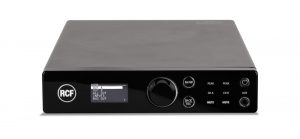 There are two Digital Mixer Amplifiers models, the DMA 82 (2 x 80W) and DMA 162 (2 x 160W), combining a DSP platform with recallable speaker presets. These are factory-created and available on the website so that the user only has to set parameters for the environment rather than the speakers. The configuration is either via the front panel with a dedicated user interface and OLED display or RDNet, using the optional board, while it will also be possible to control some of the features of the device from third-party systems via a serial protocol to integrate with other systems. Finally, DMA can distribute four audio channels to satellite DPA units, allowing easy installation and scalable architecture.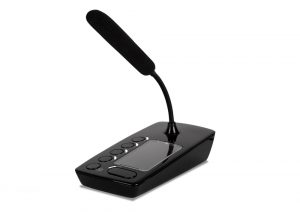 Expanding the features further are the RC 401 Remote Control and the BM 404 Paging Console. They can be used in conjunction with the DMA units. RC 401 offers basic Volume Control and Source Select; BM 404 can manage up to four zones, with up to four paging consoles connected in a daisy-chain fashion.

To complete the series, there is MF 33EN, a ceiling speaker designed for recess installation in false ceilings or panels. For wall mount installation, WMF 33EN speaker is available. While being a high-quality device for background music, the self-extinguishing EN54-24 certified cabinet and the highly intelligible voice reproduction make it perfect for voice-alarm and evac messages.
The new RCF Business Music series will be viewable at ISE 2020 at the company stand: 7-R200.
This post is also available in: Italian