97
Securika 2021, the Moscow event dedicated to the Security world, marked an important milestone for Paso: it's the first event held in presence after the covid-19 pandemic and, for the occasion, the Italian company presented for the first time the PAW family in Russia.
Paraphrasing the title of a famous film, more than "From Russia with love" we could title the remake by Paso: "Towards Russia with confidence"! The well-known Italian company has in fact launched with optimism in an event in attendance thanks to Securika 2021, a fair held in Moscow from 13 to 16 April, therefore just ended. This event marks Paso PAW family introduction to the Russian market.
In practice, Paso was represented at Securika 2021 by its historical partner for the Russian market, M/S IBERI: it's therefore not surprising that Paso – when we asked for a comment on this fair – paid big thanks to the M/S IBERI's team "for his collaboration and willingness to represent us in attendance for this fair."
The management of Paso was updated instantly and continuously, during the days of the event, on the interest of visitors for the PAW5500-VES series, compact and intelligent voice alarm systems, designed to offer a practical and innovative solution for the construction of systems alarm, in order to manage emergency situations and allow a guided evacuation according to actual regulations (ISO 7240-19, CEN / TS 54-32 and EN 50849).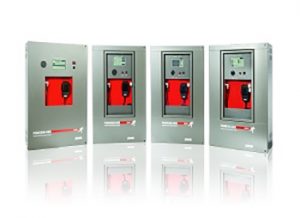 The PAW5500-VES all-in-one compact systems are equipped with a EN 54-16 & EN 54-4 certified control unit and they are all specifically designed for ease of installation and for operating in a vast range of applications to ensure security and people's life protection. Same cabinet, same size but available in three different models: PAW5502-V 500W – 2 zones double line (A+B), PAW5504-V 500W – 4 zones double line (A+B), PAW5506-V 500W – 6 zones double line (A+B)
The salient features of these systems are:
– 500 W audio rated power
– Up to a maximum 250 W for each zone
– Double output A+B per zone
– Possibility to link up to 6 central units (3000 Watt)
– RS485 serial for connecting with the most common and certificated EN54-2 fire detection devices
– EN 54-4 certified internal battery charger unit for 24 Vdc secondary power supply
– Practical side terminal strip for easy loudspeaker lines connection.
The return to the model of the show in presence, with Securika Moscow 2021, represents a message of trust and optimism that Paso wanted to strongly support. The hope, of course, is that the whole world can soon return to a never so desired "normality"!
This post is also available in: Italian