JVC unveiled two completely new lines of home theater projectors: three models for each series, featuring laser light source and 48Gbps 8K inputs.
If the laser source is nothing new, the 48Gbps 8K inputs are instead an absolute novelty in the field of home theater projectors, and JVC does not hide the pride for this feature of its new models. These JVC laser projectors, which belong to the Procision Series and Reference Series, are therefore equipped with new LSI and a proprietary 8K e-shift technology that allows the input and display of 8K images in high definition, while the source of JVC's BLU-Escent laser light reproduces images with greater precision and a wider dynamic range even on large screens.
The models belonging to the Procision Series are called DLA-NZ9, DLA-NZ8 and DLA-NZ7, while the Reference Series includes the DLA-RS4100, the DLA-RS3100 and the DLA-RS2100. JVC'sBLU-Escent laser diode light source was originally only available in the top-of-the-range DLA-RS4500 model, and is now shared by new home theater models that offer remarkable dynamic range, high brightness and long life.
Each model supports 8K60p/4K120p input thanks to a new LSI, which has contributed to the evolution of JVC's proprietary 8K e-shift technology. This technology allows for a resolution close to native 8K, moving the pixels in four directions instead of two as in the previous version of e-shift. The top-of-the-range DLA-NZ9/RS4100 version features an ultra-high contrast 100mm diameter all-glass lens and 8K e-shiftX. The DLA-NZ8/RS3100 shares most of the functions of the NZ9/RS4100, with a 65mm glass lens. Finally, DLA-NZ7/RS2100 offers, in turn, 8K input and 8K e-shift technology.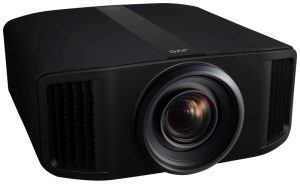 Speaking of this technology, we are happy to spend a few more words. It allows you to double the resolution by moving a single pixel diagonally by 0.5 pixels, using a 240 Hz driver for moving in four diagonal directions (up, down, left and right). The result is an ability to display pixel-perfect 8K content. The 8K input obviously requires the instant processing of a considerable amount of information, to be precise four times more than a 4K input. To achieve this, JVC has installed LSI of the latest technology to ensure stable and high image quality. In addition, in this way, the new line of projectors presents itself as "future-proof", as it offers 8K signal support to ensure long-term use.
Finally, the new projectors also support a 4K120P input, a format whose use is expected to increase in the future due to its effectiveness in displaying gaming content at high frame rates.