40
Distributed by Exhibo, the famous Martin brand has launched MAC Ultra Wash, a powerful "return to the origins" of the wash light concept: designed with simplicity and immediacy, this luminaire combines technological research and a sense of history, for an amazing result.
In developing the new MAC Ultra Wash, Martin's engineers seem to have asked: what is a real wash light? The answer is this luminaire that is simple in concept but bold and brilliant in design and operation. Using its proprietary 1150W, 6000K LED light engine, MAC Ultra Wash delivers a whopping 63.500 lumens of brightness from a 220mm front lens and offers a fast 1/10 zoom range.
MAC Ultra Wash also includes a remarkable feature set, including smooth color mixing, variable CTO, additional filters for color and spectrum correction, motorized frost for softer light, and high resolution dimming and strobing. All this makes it an ideal beacon for tours, concerts, TV shows and theatrical performances, even the most demanding ones.
At the heart of the product is Martin's patented LED lighting technology, designed to meet ever-changing performance requirements. It's a LED light capable of providing impressive metrics, but also very pleasing to the human eye, with a higher red content and a color temperature of 6000 K for a better balance of daylight.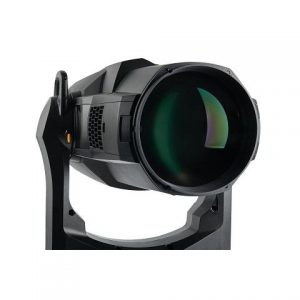 MAC Ultra has also been designed to deliver results and quality throughout its lifespan. The minimum duration of the LED exceeds 50.000 hours and the motor delivers over 90% of its initial power even after 20.000 hours of use at full power, thus offering rental and designers solidity and stability of performance. Among the secrets of MAC Ultra Wash is its sophisticated cooling system, which guarantees a precise operating temperature window and sets a new standard for low noise levels. It's not only ideal for a wide range of productions, concerts and tours, but is equally applicable for noise sensitive broadcast and theater lighting applications.
Finally, MAC Ultra Wash has a very compact and attractive design. Martin's patented handles offer better ergonomics and safer light management and, to the advantage of the scenographers, all connectors and the user interface are positioned on the same side of the unit, leaving the opposite side free from commands or controls. The follow-spot handles are also incorporated, and the replacement (without the need for tools) of the air inlet filters has been made even easier.
This post is also available in: Italian