137
The integration of Lightware products with Cisco Room opens up new and interesting scenarios for the management of modular corporate spaces: Lightware's ISE between confirmations and news.
Let's start from the end: what opinion on ISE 2020 by Adriano D'Alessio of Lightware Italia? "It was good" – he tells us on the fourth day of the fair – "despite a drop in turnout, obviously, because of worries. It's confirmed, however, that the Lightware brand is now well positioned, customers come to look for us and to meet us, from this point of view we are satisfied."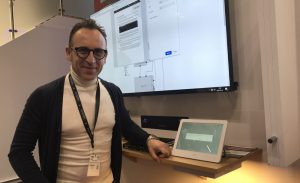 The Lightware stand, in fact, was among the most interesting in terms of system integration. So, let's start from this interesting aspect: the integration between Lightware and Cisco Room. "The Cisco control panel has only been used to control Cisco video conferencing", continues Adriano D'Alessio. "We have used the Cisco protocol combined with ours and, obviously, with our products; in this way the Cisco controller has become the control panel of the entire meeting room, allowing you to control all the equipment present. As a demo, here at ISE we brought an 8×4 matrix with HDBaseT I/O and two workstations with multi-format inputs. With the Cisco panel you can see and switch all sources, as well as see active and inactive sources. You can also turn the lights on and off. In short, we have achieved a complete and very transparent integration: Cisco has opened the API and we have integrated them." This operation is particularly interesting for divisible environments. In fact, at ISE, Lightware organized a dedicated demo in a simulated divisible room environment, to show how the system is capable of extending Cisco Room Kits by allowing them to connect to additional sources with various ports (including HDMI, DisplayPort, USB-C, DVI) and also to automatically control room applications.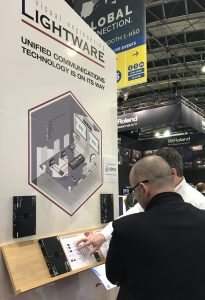 As for the Rental world, Adriano D'Alessio resumes: "We have the new UBEX 10-20 Gbit on IP, uncompressed and without latency. The main novelty is the strengthened chassis to better adapt to demanding applications. In addition, we have a Neutrik connection for fiber, and the possibility of changing the filters for impurities, an important feature because smoke often spoils the devices, on the stages. The UBEX series has undoubtedly had some success; we are talking about a matrix that works on IP, with uncompressed and latency-free signals, therefore in all respects like a true matrix. The problem with this product is being correctly understood by the public, who often, when they hear about IP, do not consider the product as a matrix."
Speaking of matrices, the new models with DisplayPort 1.2 were also presented at ISE 2020, ranging from 4×4 to 48×48 stand alone, designed for the Rental world and for events. "We also have mixed matrices" – Adriano D'Alessio points out – "with DisplayPort inputs and HDMI outputs, and with redundant power supply. The new MX2M modular matrix will instead be officially presented at InfoComm: it will be a 4K 60Hz 4: 4: 4 matrix, with various inputs and outputs, which will evolve the concept of matrix: in practice we have taken the best of our classic matrices, the best 25G arrays, and we joined it. The result will be a mixed matrix, with separate audio and control layers, and with four or more modules. To complete the product are Audio Dante, analog audio, USB, video and extension, currently available in optical fiber, but soon also SDVoE and HDBaseT 3.0."
To conclude, points of interest were also the new MMU, a matrix unit that allows you to see the entire system as if it were a matrix, and UC products. As for the MMU, all the products that make up a system can be connected to it: the unit takes care of addressing the various IPs and allows you to work with the dynamics of a real matrix, without however compression or latency.

As for Unified Communication, however, the novelty is represented by universal switchers that integrate USB routing for AV signals, in order to offer cutting-edge solutions for corporate environments, also promising a number of new features including USB-C connectivity, control capabilities of the meeting room and the possibility for users to use their videoconferencing platform to further simplify collaboration.
This post is also available in: Italian