128
This is not a revolution, but an interesting repositioning on the market for Christie, a brand among the best known worldwide for projection technologies that also proposes itself as a supplier of integrated display and distribution solutions
It was undoubtedly interesting and constructive to meet in Amsterdam Angelo Tacca of E-Home, distributor of the Christie brand in Italy. The long interview he gave us has contributed to clarify the real novelties of the British brand for 2020, which are not only of product but also, so to speak, philosophical.

"This year at ISE" – Angelo Tacca began – "a new subdivision of the production line is presented, whose branches are: projectors, video wall equipment and products for content management. The message for the market is that Christie is also a Solution Provider, as it has all the display technologies and all the technologies necessary for the management and transmission of the signals: customers are offered complete and turnkey solutions. There are several innovative products in the new catalog, designed to penetrate market segments that until now had not been central for Christie. I am referring in particular to the various alternatives to projection systems, important for a company like Christie, known precisely for its projectors but which is now facing a market hungry for alternatives, in all application fields: video walls, interactivity, presentations. LEDwall is the technology that has experienced the greatest growth in recent years."

A perfect introduction to the Christie world, which the visit to the ISE 2020 stand confirmed. All the best known technologies of the company are present, from the new range of monitors with landsacpe and portrait features (from 46" to 98") for video walls, presentations and interactivity, up to the distribution and signal management systems: SpyderX80, Pandoras Box and Terra. As for video projection, Christie presented two new Crimson 3DLP laser models with greater brightness (31.500 lumens) and the Roadie 4K40-RGB laser projector, designed for transport and demanding applications.

The biggest news, however, is MicroTiles LED with the new 3D Active features. "MicroTiles" – continues Angelo Tacca – "was the novelty presented at last year's ISE, which is now proposed with 3D integration at 120Hz, therefore without latency. MicroTiles is integrated with Terra, which gives the guarantee of processing signals with a very high bandwidth, up to UHD, and is HDCP compliant. In practice, Terra allows the transmission of signals over optical fiber, therefore via IP, in UHD resolution, giving integrators the opportunity to create an architecture for distributing signals over fiber networks. Looking ahead" – says Angelo Tacca – "MicroTiles technology could replace projection in cinemas, although I believe that the intermediate step, that is laser projection, has yet to be addressed. MicroTiles technology allows perfect collimation of the various tiles, which are laser cut. The tiles allow particular conformations of the video walls, even artistic, with a strange shape, for every possible application."

Product of great visual and technological impact, MicroTiles LED dominated the Christie stand, without forgetting the points of interest represented by Mystique and Mirage SST. "Mystique" – explains Angelo Tacca – "allows you to integrate the projector's blending and warping correction capabilities, optimizing content management on surfaces, and ensures that all devices are kept calibrated. This is a very useful feature for fixed installations, which allows you to keep the setup constant over time. As for Mirage SST, it's a RGB laser system very suitable for simulation applications. The electronic image generation system is physically separated, up to 30 meters away, from the projector body, which can be small in size, fundamental in the world of simulation."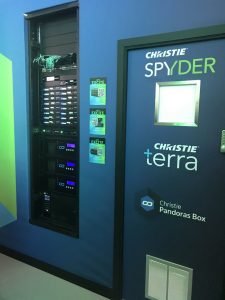 Finally, interesting news also for the broadcast world, with HDR compliant projectors and LEDwall, and for Educational applications, with the Captiva line of projectors: long-lasting laser projectors that allow high proximity to the operating surface, equipped with a special kit to build an interactive projection system, for school and university classrooms.
This post is also available in: Italian