44
Five flight simulators are supplied by the French company Alsim to the China University of Civil Aviation (CAFUC), the largest aviation training center in the world. All flight simulators use a BenQ BlueCore LU951ST laser projector
Who better than Jean-Paul Monnin, co-founder and CEO of Alsim, to offer an overview of this project, which required compact short-throw laser projectors with WUXGA resolution? "Laser technology was fundamental for us" – said Monnin – "because it guarantees a longer life of the light source and requires less maintenance. The possibility of having a short focal length and some options for correcting the image projected on the cylindrical screen developed by Alsim (solid, easy to install and tailor-made for the program), and the nuance of the projection edges, have played a key role in our choice."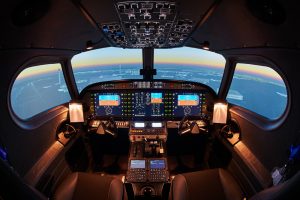 For these reasons, the BenQ LU951ST model was chosen, a laser projector capable of reproducing very sharp images thanks to the native contrast ratio of 10.000: 1. The accuracy of the details is obviously fundamental in an application such as a flight simulator, but LU951ST is also suitable for contexts such as showrooms, exhibitions, fairs and medical applications. The model also has a spontaneous response: there is no need to wait after switching on or standby, further increasing the flexibility of the product.
Finally, compared to traditional video projectors equipped with an analog VGA output, with the signal that can degrade due to the distance, in the case of BenQ's BlueCore series the signal is transmitted without any degradation via HDMI output directly from the projector to the projector or to other devices.
The short lens also allows you to project life-size images even in confined spaces, thanks to the 0,8 ratio of the lens, which allows anyone to move in front of the screen, maximizing involvement even in the smallest rooms.
"Usually, for this type of project, it's necessary to use large projectors with interchangeable optics" – continues Monnin – "but in order to be integrated into these simulators the projectors had to be compact and with a good value for money. BenQ LU951ST was the ideal choice for a visually remarkable project, especially thanks to the ultra-realistic and immersive simulator that offers a field of view greater than 10% compared to other projectors. It also means that the images shown by the projectors can be synchronized without dividing lines", was the conclusion of the CEO of Alsim. So all that remains is to take off with BenQ!
This post is also available in: Italian