143
Arakno is, for Euromet, a flagship: a very important product for the Italian company, distributed and known not only in Italy but all over the world. The new Portrait Maxi model makes Euromet's offer for the installation of video projectors even richer.
Arakno, available in both black and white variants, is a well-known support for video projectors up to 45 kg in weight, equipped with a tilting system with a patented mechanism and special screws to compensate for differences in holes, and characterised by ample customisation possibilities for the fixing flanges to the projector. The universal attachment for the projector is also designed for any customisation and allows you to combine extensions and specific accessories, so as to best meet any organisational need while the micrometric adjustment is guaranteed by precise knobs. In short, Euromet's know-how regarding video projector housings flows into Arakno, as well as an important feature of the company's products: the ability to customise solutions to meet even the most complex needs.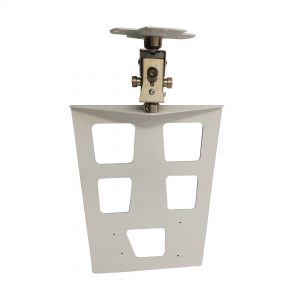 If the standard model, thanks to the integrated knobs, already offers the possibility of carrying out a patented micrometric adjustment, obtaining a total calibration of the inclinations on several axes, the new Portrait Maxi version allows, thanks to a newly designed pre-drilled plate, to accommodate all major projectors with facilitates, maintaining the exact position for all systems compatible with the standard model up to 40 kg, both in Portrait (projector facing the wall) and on the Floor (projector facing downwards.) To summarise, the use of the plate gives a higher stability to the projector and easier adjustment and calibration. Furthermore,
the basic construction materials of Arakno are stainless steel and brass, chosen by virtue of the fact that they are less subject to oxidation than other materials, which makes Arakno an ideal support also for outdoor installations.
Moreover, the small size and weight of the new Portrait Maxi model should also be emphasised: 470mm in height, 133mm in depth for a weight of 1,5 kg make this product versatile and easy to install. Finally, since safety must come first, each Euromet product complies with the CE mark with particular reference to the IEC 60065 and IEC 60950-1 standards, relating to the safety of suspended loads and the anti-tipping of ground supports.
This post is also available in: Italian