89
Epson's new GoBoard Education software facilitates dynamic and engaging learning both in the classroom and remotely thanks to unified communications and sharing of content from multiple devices on interactive displays.
Epson expands its offer of solutions for the Education world, with particular attention to "hybrid" school in presence and remotely, with the launch of GoBoard Education, a new solution for collaborative and creative teaching that facilitates learning more technologies. In short, a very useful tool to make the best use of new learning methods with interactive displays, regardless of where you are, at home or in a classroom. This new software offers a wide range of interactive collaboration solutions with features that allow students and teachers to connect, create and share content across all interactive display systems, integrating with video conferencing platforms such as MS Teams, Zoom and many more.
For example, teachers can take notes on the interactive display and then convert them into clip art images or shapes, or they can add content downloaded from the internet in real time. By integrating with AirServer, GoBoard Education supports wireless screen sharing protocols such as Miracast, AirPlay and Google Cast, which make it easier for students to share their displays during class.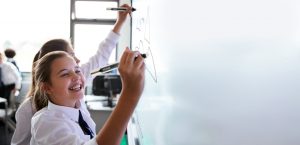 The software's integrated Teacher Console is designed to help teachers create and manage engaging content from anywhere, even remotely. The additional features allow you to include surveys to which any student connected to the lesson can respond in real time through the complementary app, which can be downloaded for free. The app allows students to view the interactive whiteboard on their personal devices, interact directly with it and save lessons and content locally for later viewing.
A comment by Carla Conca, Business Manager Business Products of Epson Italy, is essential: "Epson has traditionally focused on hardware" – she said – "but in this transition towards the interactive use of displays in classrooms and in a period in which many students participate in teaching through hybrid models, we have seen the need for a solution capable of satisfying the needs of students and teachers, both in the classroom and remotely. We want to offer teachers a tool that brings greater interactivity to displays, interactive whiteboards and flat screens. GoBoard Education software truly meets all needs: from wireless connectivity to compatibility with all interactive displays, including flat screens and integrated video conferencing."
This post is also available in: Italian