122
Danish design and Red Dot award: these are the noteworthy presentation of Cavius, a range of alarms for smoke, heat and floods that shine for smallness and practicality.
Cavius offers domestic alarms for smoke, heat and floods among the smallest in the world, with a diameter that can reach only 40 mm. In particular, the new Cavius 230V/AC smoke detector with wireless connection presents, in addition to the extremely reduced size, an interesting cone-shaped design, 110-230 V AC power supply, a back-up wireless backlink and CR2 lithium battery.
One of the most important characteristics of detectors for smoke and heat is discretion. The Cavius 230V/AC model is designed to be installed in a lamp holder, in a ceiling base or directly in a conduit box.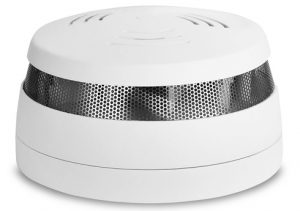 It's also possible to connect the alarm in RF to other series of Cavius Wireless Family alarms using the special contact placed on the back of the device, with wireless EasyContact interconnection. The maximum number of alarms that can be interconnected within a home group is 32. Finally, we underline that the installation of this type of alarm is very easy and fast, to meet the needs of users and installers.
Slightly larger (65 mm), the heat and flood detectors complete the Cavius equipment for a safe home.
it.eetgroup.com
www.cavius.com
This post is also available in: Italian
More from References
---
10
A new class D amplifier, a new presentation switcher and a serial interface: these are the news just announced in …