115
The new proposals of DominoDisplay.com, the online shop of multimedia solutions launched by Domino Sistemi, are "future tastes" for a developing industry such as Digital Signage
DominoDisplay.com, the "online arm" of Domino Sistemi, a Masserdotti Group company, extends its range of visual communication solutions. Two major innovations: Totem Stretch, designed by the R&D department, and Mirror Display, the new Samsung Smart Signage solution that combines the functionality of a mirror with the performance of multimedia systems.
Digital Signage is an evolving industry. In the retail sector, multimedia systems are the best answer to new shopping systems, involving consumers in an increasingly multi-channel shopping experience. The transition from the classic shelf to the multimedia totem, where you can see the full range of products, is a further evolution of buying experience that becomes more and more interactive and emotional. Here, more and more sophisticated technological and design solutions become essential to create evolved visual communication projects.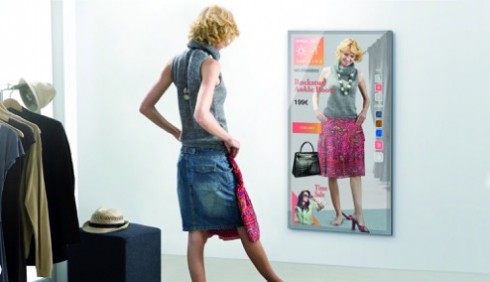 Totem Stretch has been designed entirely by Domino Sistemi designers to take advantage of the available spaces, adapting even to smaller environments such as niches, corridors, stairs or lanes.
The Samsung Mirror Display, on the other hand, offers a special versatility and, thanks to the integrated proximity sensor, perform dual function mirror and monitor for digital signage.
Designed to provide an immediate "wow effect", they are suitable to a wide range of applications ranging from boutiques to fitness centers, beauty parlors, elevators, hotel and service venues.
Like all the products available on DominoDisplay.com, Totem Stretch and Mirror Display, as well as being customizable, can be upgraded with the 2.0 release of Palinsesto, proprietary digital signage suite, and enjoy value-added 2.0 technical support.
www.dominodisplay.com
This post is also available in: Italian