137
The new Christie CP4415-RGB and CP4420-RGB projectors bring high-end cinematic performance to even smaller screens.
Christie has chosen the CinemaCon in Las Vegas to present the new CP4415-RGB and CP4420-RGB, a pair of high quality RGB laser projectors that offer advanced cinematic projections, but conform to the DCI standard. Also suitable for small screen auditoriums, boutique cinemas and post-production applications, these all-in-one projectors deliver 4K quality for a full-fledged cinematic viewing experience.
The Christie CP4415-RGB model, in particular, is designed for screens up to 18 meters wide and achieves a brightness of 15.000 lumens, while the CP4420-RGB is a 20.000 lumen model suitable for screens up to 20 meters wide.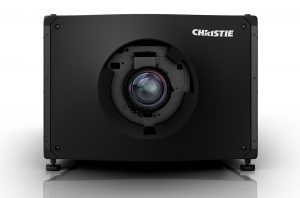 Both models are equipped with a Real|Laser RGB light source, designed for operations that can reach 50.000 hours without any drop in performance. Thanks to the Multi-Laser Pack (MPD) devices, which produce a range of colors considerably higher than the Rec. 2020 coverage, the new Christie models offer very detailed and pleasing images, also considering the remarkable levels of brightness, image uniformity and contrast. Both CP4415-RGB and CP4420-RGB are already available, and the Ambassador Theaters cinema chain recently installed them in Taiwan's largest auditorium and several cinemas around the world have already been equipped with these projectors.

Allan Fernandes, director of the Christie's Cinema product line, said: "These new projectors are ideal for small to medium-sized screens, enabling exhibitors to deliver pure 4K RGB laser performance at an affordable price while still using the same lenses as many of their existing 2K projectors. The CP4415-RGB and CP4420-RGB use the same Cinelife+ electronics and imagers found on our premium large format pure RGB laser projectors, but cater to a greater variety of budgets and screen size applications on the market."
This post is also available in: Italian