141
Casio projectors have received the TCO CERTIFIED Generation 8, which certifies the sustainability, responsibility and transparency of IT products throughout their life cycle
Important milestone reached by Casio: the Advanced and Superior series of projectors have received the new TCO CERTIFIED Generation 8, which certifies its sustainability and transparency during construction. In short, after having met very demanding criteria during specific tests, Casio projectors were declared sustainable in all aspects, from the production of raw materials to working conditions, up to the long duration before disposal.
The TCO certification for sustainable IT products is renewed every two years: the new version, Generation 8, was released in 2018. Among the criteria adopted, the presence of a corporate prevention system for episodes of corruption and the energy efficiency of production systems were also taken into consideration for the first time. The other test criteria have been revised in the new version of the TCO CERTIFIED: for example, evidence of a socially responsible origin of the minerals used.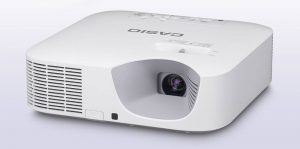 Casio projectors had already been awarded the TCO CERTIFIED Projectors 2.0 in 2016. "Sustainability and environmental protection are firmly integrated into our business concept", said Günter Grefen, General Division Manager Professional Visual Products, Office and School Equipment at Casio. "The TCO CERTIFIED criteria are always an incentive for us to further improve our production processes."
Casio was among the first manufacturers in the world to use the Laser-LED hybrid source on its projectors, replacing the lamps containing high pressure mercury vapors and thus extending the time of use of the devices, which reaches up to 20.000 hours without maintenance. In addition, a management system in line with ISO 14001 standards is common to all Casio production sites, thus ensuring social and environmental responsibility.
The reference market of Casio projectors is above all the Educational world (high schools and Universities), for which the company has also developed wireless connectivity solutions between the projector and devices of teachers and students. Other areas in which Casio LampFree projectors are widely used are companies, museums and hotels: all applications that require long-lasting and reliable products for daily use.
This post is also available in: Italian