115
ISE 2019 in Amsterdam (5-8 February) is the occasion for the presentation of the new Casio Superior series: lampless video projectors and one-click wireless connectivity solution.
The new Casio Superior series, which is on display at ISE 2019, includes four 4000 lumens models. These are video projectors without mercury lamp, with WUXGA and WXGA resolution: XJ-S400UN, XJ-S400U, XJ-S400WN, XJ-S400W. The Superior series has a Laser-LED light source, a 1.7x optical zoom, noise reduction, dust-proof design and less space thanks to the advanced cooling structure.
In addition, the Japanese company will implement a new series of solutions for the use of the projector in the classroom, together with the use of PCs and mobile devices. These solutions – called ES (Educational Solutions) – include the one-click wireless connection, the "Moderator" function for safe management of connected devices (up to 40), stand-by and automatic projection shooting and other interesting features functionalities designed for the Educational sector, but also useful for collaborative meetings within the company.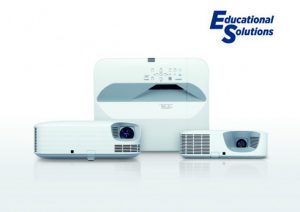 IT technologies play an increasingly important role in teaching: classes must be equipped with increasingly simple and efficient tools to exploit their potential to the full. For this Casio has developed a series of solutions able to solve this problem. The wireless connection has been made easier, and a single click is enough to start projecting without complicated configurations; moreover, thanks to the "Moderator" function, the teacher's management of the devices supplied to the students is safer and more efficient, allowing him to constantly monitor the projected contents. The teacher can also control his PC remotely via tablet or smartphone with the ability to move freely within the classroom.
And, pushing the look beyond ISE 2019, we can already reveal that in the coming months Casio will also launch the new models of the Ultra Short Throw (UST) and Advanced series, equipped with the new ES – Educational Solutions features, mentioned above.
This post is also available in: Italian