53
Six new models of the XEED range were presented by Canon earlier this year and are protagonists at ISE 2018: projectors with LCOS technology, compact design, high brightness and WUXGA resolution.
Thinking above all of system integrators, Canon launches six new XEED projectors (including three laser light sources) equipped with LCOS technology. Compatible with six motorized lenses, including the new RS-SL06UW with high resolution and reduced distortion, these projectors guarantee a great versatility of installation both in limited spaces and in large auditoriums, and they are therefore particularly suitable for system integrators.
The WUX7500, WUX6700 and WUX5800 lamp models (ranging from 5.800 to 7.500 ANSI lumens) guarantee high brightness thanks to AISYS 4.2 optical system and LCOS technology. LCOS panels have a large transmissive surface, greatly reducing the space between pixels. In this way the image is more precise and detailed, without grid effects.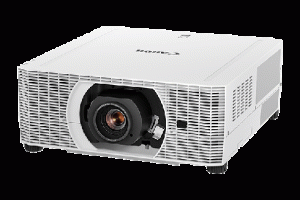 The WUX5800Z, WUX6600Z and WUX7000Z laser models represent even more versatile solutions for system integrators: available in 5.800, 6.600 and 7.000 lumen versions, they offer a contrast ratio of 4000: 1, instead of 2000: 1 of the lamp models.
In terms of connectivity, the projectors offer the HDBaseT standard, to receive A/V signal and settings even over long distances via a single CAT6 cable. In addition, DVI, HDMI and DisplayPort inputs are available. The integrated picture-by-picture feature lets you connect a digital signal to the DVI input and another to the HDMI input, and then project them to the screen at the same time. The Wi-Fi connectivity also allows you to control the projectors through iOS devices with the new Canon Projector Service Tool app. Thanks to the Digital Imaging and Communication in Medicine simulation mode (DICOM), the projectors can also be used in the medical field.
The new design, finally, provides a smaller and lighter chassis that allows a simpler installation even in problematic environments. When multiple projectors are used at the same time, the Edge Blending function allows you to combine multiple images from different devices. The new models are also equipped with a timer that allows you to schedule activities on a weekly or daily basis, an added value for Digital Signage applications.
www.canon.it
This post is also available in: Italian
More from References
---
11
Important news from the German d&b audiotechnik brand, which enriches its loudspeaker systems family with the new 44S: high performance …