39
The implementation of the functionality of the well-known Bose Videobar VB1 all-in-one conference device also passes through the recent partnerships established with the Barco and HP brands.
Videobar VB1 by Bose is an all-in-one product that does not disdain the company, however! On the contrary, it easily integrates with solutions that enhance its characteristics. Let's start with the combination with the famous Barco ClickShare conference unit, which offers hybrid meeting rooms, in addition to evident ease of use, also clarity in audio and video.
Bose's partnership with Barco, in the field of videoconferencing, has matured in particular due to the current tendency to work both in the office and remotely. The Videobar VB1 can be combined with any device from the Barco ClickShare Conference series to start meetings quickly and enjoy high quality audio and video. Videobar VB1 is ClickShare certified and ensures interoperability with Barco wireless technology; by combining these products, a significant reduction in cabling in the meeting rooms is achieved and the meetings themselves are made easier, which can be started by pressing a single button.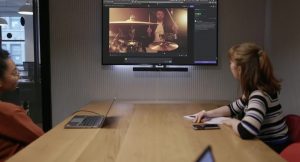 Bose Videobar VB1 is equipped with six microphones with beam steering technology, able to actively focus on the voices in the room while eliminating background noise. The proprietary Bose transducers reproduce sound in an accurate and enveloping manner, ensuring a natural and clear voice and are also able to reproduce Bluetooth audio. The final touch is the 4K Ultra HD video camera with autoframing function, which offers high video quality to guarantee remote participants an optimal view of the speakers, images and notes and any other objects present in the room. Thanks to the single-cable USB connection, no separate audio and video cables are required, and the installation of the Videobar is quick and easy, using the supplied table stand or wall mounting kit, depending on the space available.
In rooms that require additional microphones for voice capture, a Barco ClickShare Conference solution can be added to one of Bose's Ceiling Audio solutions. For example, the Bose ES1 system includes the Bose EdgeMax ceiling speaker, while the more traditional Bose DS4 system features four DesignMax DM2C-LP speakers. Each solution combines with the Sennheiser TeamConnect Ceiling 2 microphone, the Bose ControlSpace EX-440C processor and a PowerSpace P2600A amplifier, and is certified for Barco ClickShare Conference systems.
Martin Bodley, Director and Global Head, Bose Work at Bose, comments: "Barco's expertise in wireless conferencing solutions ensures features that are a perfect complement to the Bose Videobar VB1 and enable you to create a solution that covers the entire meeting room. This alliance creates a solution that reduces the amount of cables and clutter, and delivers a premium meeting room experience at the push of a button."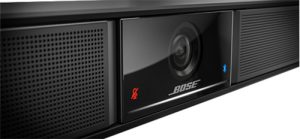 A further implementation of the efficiency of Videobar VB1 comes from the collaboration with the HP brand. Always in the logic of a "hybrid work" that implies the presence of people both in the office and remotely, the Videobar VB1 can be combined with HP Elite Slice G2 – Audio Ready for Microsoft Teams Rooms or Zoom Rooms to guarantee management and functionality requests in the most different spaces. Designed for rooms of any size, the HP Elite Slice G2 – Audio Ready can be set up, configured and used with ease, thanks to its anti-glare screen and one-touch capacitive controls. HP Elite Slice G2 – Audio Ready also offers on-demand calling, dual viewing angles, and access flexibility.
"HP" – is the comment of Martin Bodley – "is a well-known leader in the sector, whose excellent IT and collaborative solutions integrate perfectly with the functionality of the VB1 unit. This collaboration adds a full range of features in a practical package."
This post is also available in: Italian