247
A lively company always looking to innovate, ATEN presents new the perfect solutions for your multi-view operation, being it on a single screen or across three screens. These KVMP switches (KVM + Peripheral) will fit a multitude of applications.
Christmas has already arrived at ATEN, with all these innovations that… rain! The new KVMP switches are particularly suitable for applications such as control rooms, surveillance centers and post-production centers.
Let's start with the new CS1964, DisplayPort KVMP switch with triple screen support: a switch that supports signals up to 4K (4096 x 2160@60 Hz) and has four DisplayPort KVM ports with a triple HDMI console and two USB 3.1 Gen1 ports. By connecting two CS1964 switches together, you can also support up to six screens, with independent switching for KVM, USB peripherals and audio. Very complete in terms of performance, even on the control side this new switch offers a variety of options, with push buttons, hot keys, mouse and a RS-232 connection.
Always talking about switches, here is the CM1284, KVMP Multiview HDMI Switch, equipped with four KVM ports and capable of processing signals up to 4K (with two outputs available). This product offers multiview functionality (Quad view, PiP, PbP, PoP) and is expandable to control up to sixteen sources, with independent switching for KVM, USB and audio. A serial port allows remote control from other devices, while for local control there are push buttons, an OSD, keyboard shortcuts, infrared and mouse control.
And finally, there is the CM1164A, KVMP Multiview DVI-D Switch, which shares the essential features with the previous models: four DVI-D KVM ports, Multiview (Quad view, PiP, PbP, PoP), possibility of expansion to control up to sixteen sources and independentswitching. Further, CM1164A can process signals up to 1920×1200.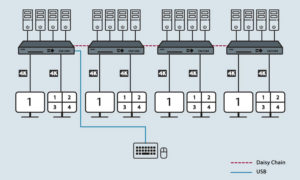 Under the Christmas tree, however, ATEN is not limited to switches: another interesting novelty is called UCE32100, USB Plug-and-Play extender featuring four USB 2.0 ports (25 MB/s), able to extend the signal up to 100 meters away on CAT5 cable. UCE32100 also has a complete kit for wall and DIN rail mounting.
This post is also available in: Italian