219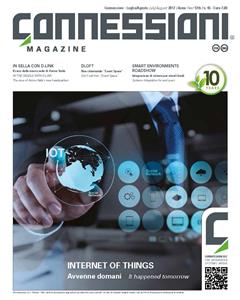 n° 45 – 2017
In this issue:
         IoT, SUCH PASSION
         An expanding sector, but who does this truly interest?
Solutions
         IN THE SADDLE WITH D-LINK
         The case of Animo Italia's new headquarters
        D-LOFT
         Don't call it an "Event Space"
         MULTIPLEX PLANET LA TORRE
         The Americans land in Sicily again… with Christie Vive Audio and Dolby Atmos!
         PORTOPICCOLO
         An exclusive "connected" city
Meeting
         PHILOSOPHY OF SPECIALIZATION
         The collaborative conference according to Polycom
Technology
         IoT: IT HAPPENED TOMORROW
         The planet (Internet) of machines
Update
         MIR – RIMINI 7-9 MAY
         A successful second edition!
         SMART ENVIRONMENTS ROADSHOW
         Systems Integration for end users         
Associations world
         SIEC AT SBE
         The Italian event for the professional AVC world 
         LATEST CEDIA NEWS
The ancestors
         Integrating (and disintegrating) systems
This post is also available in: Italian