110
AMG International has recently purchased 150 Sharpy Plus, new high performance Claypaky hybrid projectors.
Alex Vinciguerra, General Manager of AMG International, commented on this great investment: "The initial needs were to implement our product park with a high-performance item suitable for the versatility of our events. To identify the product that most closely matched our needs, we carried out a series of comparative tests and sought the advice of lighting designers and operators in the sector. Claypaky's Sharpy Plus was the only product that truly reflected all the features we were looking for, from power to versatility of use to low weight."
In fact, Sharpy Plus weighs only 23 kg, and is an integral hybrid projector with two autonomous operating modes: in the BEAM mode the mid-air effects are characterized by a high light output; in SPOT mode the light is diffused, in a more homogeneous way and allows to project graphic effects with remarkable uniformity.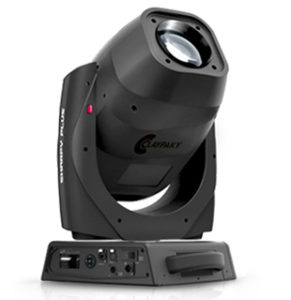 AMG International is a well-known brand. Since 1965 it has been supplying equipment for events and shows, from television to the theater, up to "live" events of all kinds. AMG customers rely on the availability of a wide range of equipment for hire: lighting fixtures, audio or video projections, generators, stages, structures and technical facilities to meet every need. Born thanks to the experience and intuition of Gino Vinciguerra, today AMG, with its four offices between Rome and Milan, is definitely among the leading companies in the sector.
Alex Vinciguerra continues: "We have always considered Claypaky the reference point for our sector: in our warehouse we have many Claypaky models, from Scenius Profile to Mythos, from Sharpy to Sharpy Wash, up to Alpha Wash, and we always find reliability and versatility of use. When we saw the Sharpy Plus at work, we immediately seemed the natural continuation of the criterion of choice that we have always pursued, which prefers quality over other factors: we have therefore opted for a massive purchase."
In recent years, AMG International has worked for the most important TV shows on the Italian scene, including X-Factor, Italia's Got Talent and David di Donatello. The company aims to offer its customers a "turnkey" package that guarantees a complete service to the productions, from rental to technical equipment, from suspension to consoles for the movement of professional lights for the show. The Claypaky brand is obviously always present and, with the new Sharpy Plus equipment, it will be increasingly represented.
www.claypaky.com
www.amginternational.it
This post is also available in: Italian