93
Yamaha unveiled the new ESB-1090 soundbar for professional use, designed to enrich and enhance remote meeting and video conferencing experiences.
Yamaha's new ESB-1090 business soundbar has been designed to combine premium audio quality and elegant design, making it perfect for all work environments and conference rooms. ESB-1090 is equipped with two tweeters, two mid-range speakers and two subwoofers, and provides a premium-level sound experience for various applications, especially in the Corporate environment, when high-quality video must be combined with equally qualitative audio for a perfect video conferencing experience.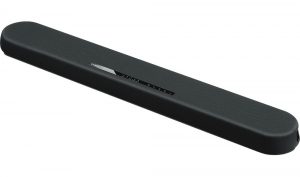 The design of the ESB-1090 soundbar is particularly simple and elegant, and offers the possibility of installing it both on the floor and on the wall, helping designers to naturally integrate it into any environment. A built-in gyroscope ensures the optimization of the sound experience in all possible applications. In addition, three different sound diffusion modes ensure that the ESB-1090 always fits in the best way for various applications. "Conference Mode" is ideal for optimized speech reproduction, even with distant interlocutors. The new "Education Mode" is specially designed for use in training rooms: this mode deactivates most of the operating and control elements so that students cannot change the general settings while using the equipment. Finally, the "Hotel Mode" is focused on entertainment and makes television or music content even more enjoyable and usable, while also allowing users to connect their personal devices to play the contents.
Yamaha ESB-1090, which will be available on the market from July 2021, also offers a wide range of connectivity options. Users can easily connect it to their TV, PC or smartphone via HDMI, Bluetooth or fiber optic connection.
This post is also available in: Italian