171
The ISE 2020 was chosen by Yamaha to present the activities of the Unified Communications division in Europe, together with a wide range of products for the Enterprise and Entertainment markets.
Audio and Unified Communications have never been so close as on Yamaha's stand at ISE 2020. The company has in fact decided to use this important trade fair to present the three categories of products in Europe which, thanks to their high audio quality, are designed to make communication effective in any environment, from corporate to entertainment.
These will include the new YVC-330 conference phone, which combines a compact, portable design with high audio clarity. The new SoundCap technology with Far Field Noise Reduction (FFNR) and Yamaha's Human Voice Activity Detection technology ensures perfect speech intelligibility in any situation.
Then, here is the new CS-700 video sound bar, featuring an integrated camera for the voice-optimized solution for small and medium rooms. Four directional microphones capture every word, with the 120° camera keeping an eye on everything.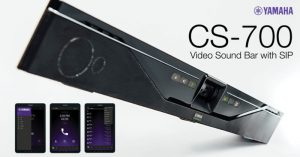 Yamaha UC will also be showcasing its wireless conference microphone systems, which highlight the close relationship between UC and Yamaha's Pro Audio technology. For example HD Elite series microphone systems work seamlessly with the powered loudspeaker systems and audio processors that the Pro Audio division is exhibiting at ISE 2020.
Roberto Rinaldi, Pro Audio Sales Manager Yamaha Music Europe Branch Italy, described to us, summarizing, Yamaha's presence at ISE 2020: "As regards UC, more than a product we presented a line-up. A very important thing, which we have reproduced here in our stand, is the 5.1.4 system that brings the emotions of a cinema into a meeting room, which is very much in demand by the corporate world. The Yamaha brand is alongside the concept of audio experience: giving quality to the world of Collaboration is our mission. In addition, Yamaha is historically recognized also for electronics, therefore for programming skills. Today we can present innovative systems such as the SoundCap, which with a special algorithm manages to create a sort of three-meter dome around the conference table. It's a perfect product, for example, for open spaces, and it strictly combines audio and electronic technology."
There was also a more "traditional" part on the Yamaha stand at ISE 2020, with products such as digital mixers and active speakers. "We have also brought the new SWR 2310 switches, with 8, 16 or 24 ports" – concludes Roberto Rinaldi – "with single-mode or multimodal fiber optic ports from 1 to 10 Gbit, depending on the models. In short, we have added this important new line-up to the preconfigured switches for Dante with PoE for Install or Live applications. At this ISE 2020, we experienced a high interest rate for our news."
europe.yamaha.com
uc.yamaha.com
This post is also available in: Italian