120
ClickShare CSE-200+ and ClickShare CS-100 Huddle wireless presentation systems, distributed in Italy by Comm-Tec, make corporate meetings more flexible and creative.
Creativity promotes productivity: meetings, brainstorming and discussions improve collaboration and commercial results. A difficult-to-achieve objective in companies of all sizes, without adequate technological support ready to "streamline" the sharing of information and content among team members.
That's why many corporations have adopted Barco's ClickShare wireless collaboration solutions, most notably the CSE-200 + and CS-100 Huddle versions, which we will look at in more detail in this brief overview.
Sharing and brainstorming with ClickShare CSE-200+
The CSE-200+ wireless system offers interactive collaboration experiences for medium-sized corporate meeting rooms. How? Here are the major features of Comm-Tec's proposed solution:
ability to connect up to 2 users simultaneously;
sharing from PC, tablet or smartphone;
advanced security features;
note, whiteboard and TouchBack support on 4K panels;
centralised management;
equipped with 2 buttons.
To start sharing content within the company, simply connect ClickShare Button to a laptop and click to transfer the content to the meeting room screen. The ClickShare App offers additional collaboration features with laptops or mobile devices and can be used in combination with Button, for an even more complete content sharing experience.
But, ClickShare's advantages don't end here: BYOD support, HDMI input to quickly switch from wireless to wired sources, and the wide range of 4K features make the CSE-200+ version ideal for increasing companies' creativity and productivity.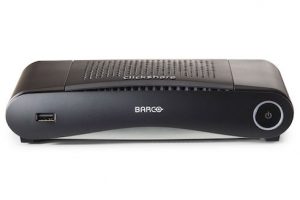 ClickShare CS-100 Huddle: small teams for big results
Open spaces are flexible, direct and intuitive spaces where you can bring your device to share content and opinions with colleagues. That's why Barco has also created ClickShare CS-100 Huddle, a wireless presentation system for spontaneous, open space collaboration, which allows users to quickly and easily share the contents of their laptop or mobile device on projector screens.
No more cables, installation procedures, or connection waiting times. This solution for small business teams is distinguished by:
wireless connection to the central screen;
1 on-screen user;
sharing from PC, tablet, or smartphone;
HDMI output.
Anyone present within the company, including guests, can connect to the system with a simple click and immediately start sharing content and interacting with the group.
CS-100 Huddle, stand-alone model with HDMI output to connect up to 8 users, can also be integrated into a company network and managed in a centralised way, for a uniform experience whether in open spaces or staterooms. This is because the CS-100 Huddle is also equipped with ClickShare's standard security features, including encryption, login management, https, and the ability to hide the SSID of the Base Unit's wireless network.
www.comm-tec.it
This post is also available in: Italian