107
On the important stage of LDI, in this month of October, Work Pro has launched a new range of controllers for Pyrotechnics, Lighting & Audio Stage Hardware
12 months on from the launch of lighting console LightShark at the 2017 LDI Show, Work Pro return to Las Vegas to launch a new range of control hardware: Pyron.
Work Pro's Pyron range comprises several wirelessly controllable devices designed to provide event organisers and touring companies with complete control of stage effects and hardware ranging from stage pyrotechnics, audio and lighting effects to CO2, flame and cold fire spark machines.

The Pyron range includes an advanced suite of control software, two different DMX-equipped, battery-operable hardware consoles (the FDC-W and the FDC-A) and the FD P1 wired or wireless trigger pad, all of which are built into easily portable IP67-rated water-resistant ABS transport cases for use in demanding event environments, indoor and out. The consoles connect to M2 pyrotechnic firing modules; up to 64 M2 modules can be used with each console, and each M2 can launch up to 16 fireworks simultaneously.
The consoles form the command centre of any Pyron system. The FDC-W can route trigger commands and macros to connected pyrotechnics via dedicated connections at the same time as controlling stage machinery, lighting and audio effects and processing via its DMX output. The top-of-the-range FDC-A offers all of the functionality of the FDC-W, but adds Open System Control (OSC) and Ethernet connectivity for more control options.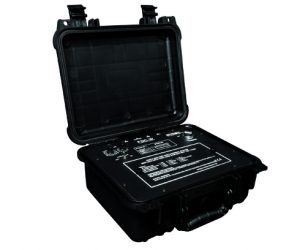 The FD P1 Fireworks Digital Pad is designed for users that need a dedicated trigger pad separate from the main console. It can be connected to the console via a cable or wirelessly.
"Lighting, sound and pyrotechnics, which have usually been considered separate items in the past" – explains Work Pro CEO Juan Jose Vila – "can now be controlled, in a theatrical production or in an outdoor event, by a single programmable control system with different options. This offers exciting new possibilities for event organizers, touring companies and stage techs alike."
The Pyron range is being officially launched in Las Vegas at the Work Pro stand on the opening day of the LDI Show 2018, on October 19th.
This post is also available in: Italian