171
Starting from Integrated Systems Europe (Amsterdam, 11-14 February), the 2020 of the Mersive brand, distributed in Italy by Prase Media Technologies, promises to be sparkling and full of news.
In the "Prase galaxy", Mersive is undoubtedly an important and prominent brand, automatically associated with the Collaboration area thanks to Solstice, its best known and universally appreciated product. Platform for wireless presentations and meeting management, Solstice allows you to stream content on the screens of various devices up to UHD 4K, share videos, post screens of individual applications and view web content.
Suitable for meeting rooms of all sizes, from the largest to the huddle rooms and classrooms, Solstice promotes collaboration by simplifying the installation and management. To use the platform, in fact, simply turn on and connect a Pod via HDMI to the display of the room; then connect the POD to the local network and install and launch the app to go wirelessly and start sharing. In short, the basic characteristic of Solstice is its ease of integration into existing AV and IT systems, in order to minimize the difficulties in organizing meetings in any space.
In addition, updates and optimizations of the software are constantly available for users, so that the platform is always at the forefront. Finally, in terms of security, Solstice is strengthened by various IT levels, by user security functions and protocols, with user and administrator validation, network traffic encryption, 802.1x network security protocols, SSL, https etc. In short, there is everything you need to work (and share) in peace.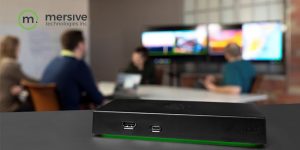 However, Mersive is not just Solstice. Also very interesting is Kepler, a Cloud service that simplifies the daily control of Solstice installations, and provides analysis of data on Collaboration and use of the meeting room, collecting data from the various Solstice Pods installed. For users, it's a useful tool to better exploit meeting spaces, rationalizing their use.
Solstice Dashboard and Solstice Discovery Services (SDS), instead, provide secure tools for implementing the system on managed IT networks. Solstice Dashboard, in particular, can be used by installers to configure, monitor, manage and control all Solstice endpoints through the host network, from one or more administrator stations.
ISE 2020 (Amsterdam, 11-14 February) will be the first appointment to discover the latest news from the Mersive brand, dedicated to creating an effective integration between video conferencing and sharing content in the room; but the first "rumors" also speak of active learning software, which should improve usability and accessibility compared to current solutions. In Amsterdam, speaking sessions are also planned by Mersive founder and CTO Christopher Jaynes, on topics such as the modern workplace described thanks to Meeting Analytics, on-demand video routing and the classroom of the future. Appointment at ISE 2020, therefore, with Mersive (and with Prase!).
This post is also available in: Italian