169
The Barco proposal for small meeting rooms is called CS-100: ideal for setting up meeting rooms that fully respect the criteria of social distancing, between Smart Working and hybrid working spaces.
Barco highlights its wireless meeting room product for all needs and for all types of customers, from small to the most important companies, all united, in this particular historical juncture, from the need to set up meeting rooms suitable for maintaining social distancing with little effort. Collaboration, in short, must evolve like viruses, and adapt to a phase in which work in the presence cannot be guaranteed for everyone. The meeting rooms, therefore, must become "hybrid", and must be able to accommodate both those who are present and those who remotely work.
Barco's collaboration is called ClickShare: the new CS-100 is an autonomous wireless presentation system for small meeting rooms, which allows you to bring your device (laptop, tablet, smartphone) into a meeting and share its screen or selected files for the meeting. All this by connecting through a Collaboration App and without cables, in BYOD and wireless mode, without complex installation procedures and without having to wait for the connection.
CS-100 is a standalone model equipped with an HDMI output, which allows connection of up to eight users and sharing by one user at a time. The model is equipped with the standard ClickShare security features: encryption, access management, https and the possibility of hiding the SSID identifier of the Base Unit's wireless network. Furthermore, the product is based on ISO 27001 certified processes.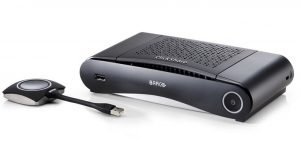 A "Huddle version" also comes with the new CS-100: CS-100 Huddle is designed for small teams and to transform small environments into creative and flexible spaces. In short, the concept is clear: CS-100 guarantee no gatherings around a single PC and the ability to hold meetings for up to eight participants by simply pressing a button, easy to sanitize: collaboration in the era of social distancing is done!
For further information: maverick@techdata.it
This post is also available in: Italian