154
Smart City, IoT and cyber security were the most "hot topics" discussed at the annual Axis Communications event, "The Axis Way", held on September 21 in Milan
Axis closes the summer with a composite and stratified "Axis Way" day, which is undoubtedly very interesting both in the exhibition area and in conferences. It would be impossible in the available space to account for all the issues emerging and treated during the day; so let's take a look at what we think is more interesting. First of all, cyber security, quickly expanding as much as necessary, as a direct consequence of the just as fast expanding of the Internet of Things, both in Smart Home and Industrial. This development naturally has the potential to hackers threaten, not only in the home but also in the medical field. Of course, we think of the risks of sabotaging networked medical equipment! The intervention of Professor Luigi Romano of the Department of Engineering of the Naples "Parthenope" University has been very comprehensive in outlining the risks rather than possible solutions, and in any case has provided a valid description of the state of the things as far as cyber security is concerned.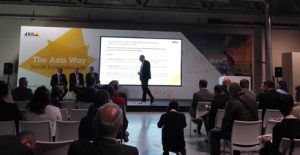 Even more challenging is the conference on IoT and Smart City, attended by the IT and technology managers of the Municipalities of Genova, Torino and Verona. Talking about Smart City is fine, but as long as you do not compare with who runs and organizes cities, the speech will always be a little too abstract.
Axis has, wisely, subjected to the public's opinion the work of three authoritative experts in technological and IT administration. What came out of it was a good discussion of Smart City in the near future: a city, but above all an administration, in which the role of citizen and user is complementary to that of the service provider, and in which the services become more streamlined thanks to technology. "Real Time" has been one of the most widely used words to express the ideal mode of service delivery in a Smart City.


Two unresolved issues have also been tackled on time: on the one hand, the need for a coherent and organic vision for the application of the IoT to cities; on the other, the eternal – and justified – concern for privacy. It has been quoted (perhaps with a little too much enthusiasm!) the disturbing case of Singapore, a city that has already launched the "card" of the citizen, through which the entire resume of the individual can be consulted for decide on a hire, a dismissal, even a wedding opportunity!
Certainly, Singapore's culture is far from the European one, but – although it does not want at all costs to evoke Orwellian ghosts – perhaps this "card" is at the same time a demonstration of the potential of Smart City … and its risks!
https://www.axis.com/it/it/
This post is also available in: Italian