39
Distributed in Italy by Maverick AV Solutions by TechData, the Vision brand means excellence in the field of accessories for AV installations, with a rich catalogue of reliable and competitively priced products. The new website facilitates the search for the right product for every need
Vision is a dynamic brand, that gives you the impression that you'll never fully discover or explore it, because it continuously proposes new solutions and ideas. Vision's field of work is the design and production of accessories for top quality AV installations, from cables to table masks for sockets and connectors, to display supports of all types, without renouncing, however, at competitive prices and the indispensable ease of installation. Vision products, in fact, are characterised first and foremost by a design studied in every detail, to ensure that the installation can be done with the hands alone: so the installer knows that he can quickly and effectively arrange the assembly of any accessory.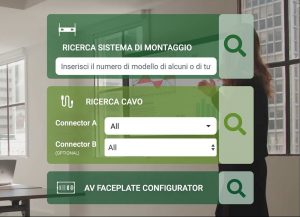 Therefore, when we talk about accessories, the thought often goes to an immense amount of objects among which it is difficult to establish which ones are really needed. Well, Vision has recently revised its website: just enter a part of the item code of the display for which you are looking for, and you will get a complete list of compatible mounting systems. Anyone can, with just a few clicks, navigate the company catalogue, search for the products they need and view the available stock levels. In particular, we emphasise the Vision configurators for cables and brackets, which allow you to identify all the products needed for a system starting from the types of displays and AV equipment to be connected and installed. In addition, the possibility of organising online training sessions. Vision, in fact, have a top-level technical team, who know the products very well and know the needs and difficulties of the installers.
With such a smart management of orders and product searches, the constant replenishment of stock is obviously an integral part of Vision's philosophy, in order to have the required products available in most cases. From a technological point of view, Vision's attitude could be summarised in two words: simplicity and efficiency. In fact, the engineering team involved in the design aims to offer integrators products that are increasingly easier to use and install, without sacrificing efficiency. As proof, Vision products are basically guaranteed for life, which is impressive compared to the less reliable other brands. Such a level of self-confidence undoubtedly deserves an emphasis.
it.techdata.com/portfolios/maverick
eu.techdata.com/maverick-av-solutions
This post is also available in: Italian