81
The exhibition "Viva Vivaldi. The Four Seasons Mystery", at Museo Diocesano in Venice, offers a multimedia and multisensorial experience, thanks to a last generation AV system
A new exhibition has been opened last 13th of May in Venice, titled "Viva Vivaldi. The Four Seasons Mystery", and staged at the Museo Diocesano, a few meters before Ponte dei Sospiri. As a true monument to the Venetian composer, the museum put spectacular involvement before didactic intents, through sophisticated AV Technologies and a multimedia and multisensorial experience. The event has been organized and promoted by Emotional Experiences, with the collaboration of Patriacato di Venezia and Museo Diocesano di Venezia, and is sponsored by energy provider and, more and more, business incubator Illumia.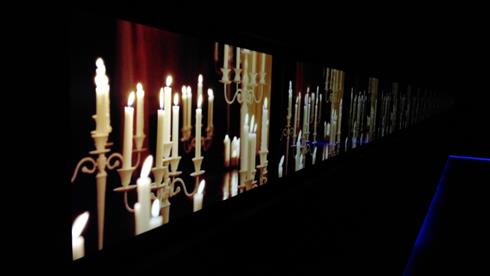 Viva Vivaldi is an experience that is divided in four steps: in the first one, the visitor is called to listen to an introduction about the life and the works of the composer, through a traditional audio-guide, in the wonderful kiosk of Sant'Apollonia, perhaps the oldest of the town. The three following rooms are, instead, in the name of immersivity, of the evocation, through modern digital technologies, both of the context in which the baroque music Master lived and worked, both, on a different and more abstract scale, of the feelings aroused by his compositions. In the first room we have a game of light refractions on the walls and through the glasses, made with lettering and visual suggestions, whilst the second one is composed by a series of screens that constellate the walls, with a cinematographic representations freely inspired by the life of the Artist.


But it's undoubtedly the third room the one which catch the attention of the visitor the most: a videomapping of interiors, lasting around ten minutes, on the museum's vaults, with  light, colour and even tactile and olfactory effects. The installation, which interpolate images of the young Vivaldi to images of the ancient Venice and phytoform motifs, basically aims, in the words of the authors, not to tell the story or to analyse the works of the Venetian musician, but to stimulate a further discover of him. "With Viva Vivaldi", says Emotional Experiences' General Manager Gianpiero Perri, "we intend to offer a new modality to valorize the masterpieces that belong not only to the history of Venice, but to the universal one, in order to allow everybody to enjoy it". All the work, in this extent, can be conceived as a pastiche of great impact, obtained through new technologies that put in dialogue the present and a past in a technically astonishing way, through the usage of a last generation lighting system. Therefore, we should not but welcome the wish of the Director.
This is the link to the exhibition site: https://vivavivaldivenezia.com/
This post is also available in: Italian