39
Toggle USB 3.0 by Inogeni, distributed in Italy by Satnet, was selected as a finalist in the category reserved for the best technologies for processing and distributing AV signals at the AV Awards 2021.
Toggle does not lack ambition, aiming to solve an extremely widespread problem in conference rooms and auditoriums around the world, where BYOD (Bring Your Own Device) and BYOM (Bring Your Own Meeting) are now the rule: the customer needs be able to access in a few seconds through your PC the room Audio-Video peripherals such as video cameras, microphones and speakers.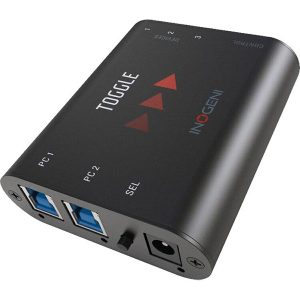 The USB 3.0 Toggle selector fits perfectly into the typical scenario of a conference room, with a desktop PC equipped with videoconferencing software (Zoom, Teams, Webex, Meet, etc…), USB camera, USB microphone and audio broadcasting.
Very often, guests find it very convenient to be able to use their laptop and account to connect via videoconference.

Thanks to Toggle USB 3.0, the user can use a single USB cable to automatically connect his PC and use the room AV peripherals, effectively entering the meeting. Toggle USB 3.0 supports three different modes of operation: USB auto-sensing, selection button or control system.
Toggle USB 3.0 is in the catalog of Satnet, a value-added distributor of AVC technological solutions, active since 1998. We just have to wish… good luck for the award ceremony!
This post is also available in: Italian