57
An immersive TiMax SoundHub audio processor was recently used to add the spatial dimension to an art installation commissioned by the Asia Culture Center in Gwangju, Korea.
In the world, interesting applications of technology to art, and art to technology, are popping up. The fascinating images of an installation created by the Kimchi and Chips studio come from Korea. The studio asked Junghoon Pi, Professor of Music & Sound Design at Seoul Institute of the Arts, to collaborate on the third edition of the Light Barrier series. Influenced by impressionist painters who were inspired by the introduction of photography, the installation allows images to arise from the canvas, creating paintings outside of perspective. Pi created an immersive soundscape rendered and distributed by a 16-channel TiMax SoundHub dynamic spatial audio matrix, to help embed the images into the audience's senses.


The installation uses a multi-segment mirrored apparatus to split the beams of eight video projectors into 630 individual projection elements, which in turn create a total of 16 million, measured and calibrated, pixel-beams. Each mirror creates a group of light beams that collaborate to form animated mid-air images in the heavily hazed space. Forty channels of audio support the six-minute sequence, which employs the motif of the circle to travel through themes of birth, death, and rebirth, helping shift the audience into a new perception of existence.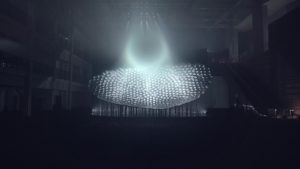 A total of 20 full range loudspeakers are driven by TiMax, with sources fed from an SSL Live L300 desk. In TiMax, Pi was able to create multiple Image Definition spatial audio objects and use them to render dynamically shifting three-dimensional sonic layers. Cue sequences were launched by MIDI triggers, and seamlessly blended across designated groups of loudspeakers within the array. He observes: "TiMax was perfect for moving sounds from one loudspeaker zone to another. I've used TiMax since I was introduced to the product by US sound designer Scott Lehrer in a workshop in Seoul, and Kimchi and Chips' Light Barrier was the perfect opportunity to flex the capabilities of TiMax to its fullest."
www.outboard.co.uk
This post is also available in: Italian
More from References
---
23
First the succession of rumours, then the official announcement and, shortly after, the new dates: ISE 2021 will be held …