135
The Lennon Bus, which is a state-of-the-art mobile audio and HD video recording and production facility, regularly provides free digital media production workshops to schools across the US and Canada – enabling students to learn how to write, record, and produce original songs, music videos, documentaries, and live multi-camera video productions
The full name is "John Lennon Educational Tour Bus", and 2020 seems destined to be a very important year for this mobile structure designed to offer young people in Canada and the USA the opportunity to learn video and music production. This year, in fact, several events are planned focused on what would have been John Lennon's 80th birthday.
To ensure that students experience the best possible audio quality, the monitoring systems in the Bus's two onboard studios have recently been upgraded to Genelec's 'The Ones' coaxial three-way point source models. Genelec has been a long-term sponsor of the Lennon Bus with the two-way 8240A Smart Active Monitors and 7260A subwoofer having originally been installed in each of the Bus's 5.1 studios.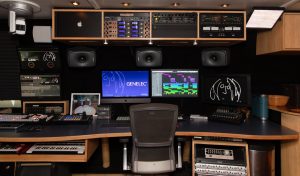 The upgrade has seen the US Lennon Bus move to the same technical setup as its European counterpart, with all 10 of the original 8240As having been directly replaced by 8341A coaxial studio monitors, with the 7260A subwoofers being retained. Genelec's Smart Active Monitoring technology has been particularly important for this project, since this has enabled the Lennon Bus's technical team to create specific calibration presets for different configurations of the Bus, using Genelec's GLM software.
"When we installed those Genelecs, the difference in the sound was just readily apparent and really impressive, and we thought that it had to be as good as it could get", recalls Jeff Sobel, Creative Technology Director for the Lennon Bus. "Then when The Ones came out and we had the opportunity to use the 8341s, we thought we would give it a try. I think we were all expecting there to be a subtle difference in the sound, and we didn't really see how it could be too much better. But it was remarkable. The Bus is a configurable space" – continues Sobel. "It has sliding glass doors that can partition off the rooms from each other and that changes the acoustics of the space as well. Using the Genelec Smart Active Monitoring technology, we can have different calibration presets for 'doors open' and 'doors closed', to suit various ways we work. Our Bus is designed to be as flexible as possible and the Genelec monitors are perfectly suited to that."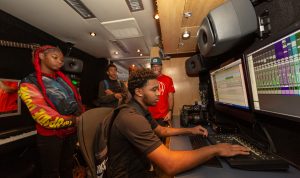 "We go to a lot of under-served schools and a lot of communities that are under-resourced", explains Brian Rothschild, Co-Founder and Executive Director of the Lennon Bus, "so bringing something that really represents the best of the industry is eye-opening and can be lifechanging for kids and communities."
The renewal of the monitoring system therefore keeps John Lennon at the forefront, as he always liked to be, not only on a technological level, but also and above all for the vision of the future.
This post is also available in: Italian