128
After OLED TV and SUPER UHD TV, LG focuses on the Brains Behind the Display and takes a look at the future of TV, with ThinQ and the Alpha 9 processor.
On the occasion of CES 2018, LG Electronics will bring the home entertainment experience to a new level thanks to the introduction of ThinQ Artificial Intelligence and an advanced image processor within its new lineup of OLED TV and SUPER UHD TV.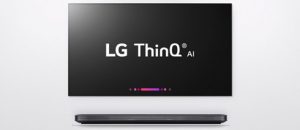 ThinQ allows you to manage hundreds of voice requests using the LG smart open platform and third-party artificial intelligence services. ThinQ TVs also work as a smart home hub, allowing you to manage other smart home products such as vacuum cleaners robots, air conditioners and air purifiers, lights and smart speakers and many other devices that can connect to TV via Wi-Fi or Bluetooth. In short, the television experience enriched by Artificial Intelligence is a real novelty that could revolutionize the way this instrument is used. LG's ThinQ focuses on interactivity through the use of Natural Language Processing (NLP), which provides intelligent voice control and connectivity based on DeepThinQ's proprietary deep learning technology. Users can quickly connect to game consoles and external soundbars, as well as search for information, images or videos with specific content through simple voice commands.


The new Alpha 9 processor is instead responsible for improving image quality. LG Nano Cell SUPER UHD TVs use Full-Array Local Dimming (FALD) backlighting to deliver deeper blacks, optimized colors and realistic images. A particularly innovative feature of Alpha 9 is the four-step noise reduction process, achieved thanks to an algorithm that increases the precision in the noise reduction, improving image clarity.
In addition, LG OLED 2018 and SUPER UHD TVs support 4K Cinema HDR, Advanced HDR by Technicolor and major HDR formats, from premium Dolby Vision to HDR10 and HLG (Hybrid Log-Gamma) to provide a cinematographic experience at home. All models use Dolby Atmos object-based surround sound to provide the best possible audiovisual experience.
Visitors to the CES can preview the new LG TVs at the 11100 booth in the Central Hall of the Las Vegas Convention Center.
www.lg.com
This post is also available in: Italian
More from References
---
11
Occupancy Management Solution (OMS) is the newTripleplay and ONELAN proposal for the management of spaces in companies, schools, universities and …