126
Navigli and the Darsena are not the maritime scenarios suitable for nautical exhibitions, yet the Fuorisalone succeeded this year in bringing the navy even in Milan…
Azimuth Yachts realized, during the Milan Design Week, the interesting installation titled "Dolce Vita 3.0" (sweet life 3.0) in front of the Triennale building, where a 21-meter yacht, full of technology and design, made its appearance, wrapped in a mist of vaporized water.


Why "Dolce Vita 3.0"? The intention of the company is obviously to allude to the famous film by Federico Fellini, updating it at the present time, in an enhanced and… technological version! What is the sweet life, today? Navigation, luxury, emotions, things symbolized by the Made in Italy yacht.
Refinement of design, innovation and technological research are the essential concepts of Azimut Yachts, while the original touch of the installation derives from the idea of… not letting visitors get on the boat (even for obvious logistical reasons), but to offer a virtual reality tour, realized by Superresolution architecture study, specialized in VR simulations. Moreover, the practice of presenting architectural projects in VR is increasingly widespread, due to the obvious advantages of greater realism and immersive capacity.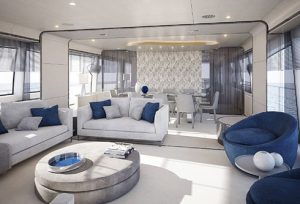 The customer is not limited to understanding the project, but "lives" it even in its minimal aspects. Going aboard the yacht in VR, it was possible to observe every detail of the interior, and even… lean over the side of the boat and enjoy the navigation!
A mix of architecture, design, technology and Made in Italy, therefore, has characterized the presence of Azimut Yachts at the Fuorisalone 2018, in an installation that is undoubtedly able to bring the general public closer to the high-level nautical world through a real multisensory experience. Every evening, however, the yacht was the protagonist of a light design performance, aimed at enhancing its lines and details.
http://www.azimutyachts.com
This post is also available in: Italian
More from References
---
15
Important news from the German d&b audiotechnik brand, which enriches its loudspeaker systems family with the new 44S: high performance …